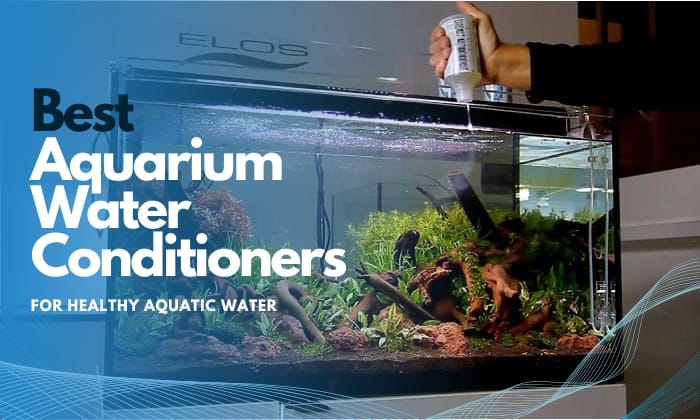 One of the most vital aspects of fishkeeping is the quality of the water in the tank. As you know, poor water quality could instantly lead to the ailment or death of the tank occupants that are unlucky enough to dwell in it.
Hence, if you have conducted research on maintaining a fish tank for your aquarium buddies, then you have thoroughly determined what you especially require when adding the best aquarium water conditioner. And, for sure, you wish to know why. Without question, the conditioner makes your chemically treated tap water risk-free for your tank inhabitants to breathe in and swim.
Building a suitable tank environment for goldfish or other fish often requires using a water conditioner. However, many aquarium owners need help when trying to buy one. So before diving into the reviews, let's quell these concerns by discussing some key considerations when buying conditioners:
Versatility: Certain water conditioners provide more versatile results, like working as a fish tank odor eliminator or a dechlorinator for fish tank aquariums. It's why I'll always recommend going with these comprehensive options over a cheap or homemade water conditioner.
Effectiveness: It's never wise to purchase a water conditioner without researching whether it does its job effectively. So please, use customer reviews and other resources to ensure your chosen option can make tap water safe for fish. Freshwater conditioners may not work on saltwater and vice versa.
Ease of Use: All aquarium water treatments will have slightly different directions. It'd be wise to read them before purchasing. If you do, evaluating whether the water conditioner is easy to use is much more manageable.
Please be guided that unless the water is old, it is specifically required to be de-chlorinated prior to adding the fish occupants safely. This is the primary reason why it is a must to select a product that shall take better care of heavy metals, ammonia and chlorine.
Best Overall
Seachem Prime Conditioner
✅ Very affordable
✅ Eliminates toxic chemicals
✅ Comes in multiple bottle sizes
Premium Choice
API Tap Water Conditioner
✅ Available in several bottle sizes
✅ Minimize the levels of chloramines & chlorine toxins
✅ Does not have any effect on the pH level
Editor's Choice
Tetra AquaSafe Water Conditioner
✅ Can guarantee fast results
✅ Capable of forming a slime layer
✅ Heals and protects fish from toxins
Top-Rated Aquarium Water Conditioner Reviews 2023
1. Seachem Prime Conditioner
Seachem Prime is a certified top-notch water conditioner for fish tanks. As a matter of fact, this product is first rated for its effectiveness and reliability. It comes in six distinct sizes and it is sold at a very pocket-friendly price tag that is ideal for those who are on a budget. You won't have any difficulty in using it and it works as advertised.
Once you have added this conditioner to your fish tank, it will start removing the chloramine and chlorine chemicals in your water that are quite toxic to your tank occupants. Likewise, it detoxifies any ammonia in the aquarium. Nonetheless, it aids in converting ammonia substances into a kind of substance that could instantly take in and can be eradicated through the standard bio-filter of the tank.
Furthermore, this could even eliminate the threats of chemicals present in the aquarium water. It is worth noting that it is also capable of equally affecting the pH levels of your aquarium. Fundamentally, it aids in breaking down nitrate substances to support your filter process instantly.
This is a comprehensive and concentrated water conditioner that works outstandingly for both saltwater and freshwater tanks, and it does a wonderful job in alleviating chloramine and chlorine.
On the other hand, this conditioner has the tendency to contain tiny black splotch and comes in an unpleasant odor when opened.
Capable of actively disintegrating nitrite and nitrates chemicals
Does not have any negative effect in the water's pH level
Eliminates toxic chemicals from heavy metals found in your water
Comes in multiple bottle sizes
Very affordable
Comes with foul smell
Had tiny black splotch
Overall, it is safe to say that Seachem Prime is the type of conditioner that won't fail you in your expectations and you won't feel dismayed investing in this one great product. It is actually patronized by countless aquarium owners worldwide. Many consumers even consider it as a kind of conditioner that can offer consumers the best possible results.
If you wish to provide a harmless habitat for your tetra, betta and other fish, then this is the right pick for you!
2. API Tap Water Conditioner
API tap water conditioner can be considered as one of the top-tier values for tap water treatments primarily because it is designed to significantly aid in purifying aquarium water that comes directly out of your tap. This product comes in a number of available bottle sizes so you can pick the one that's suitable for your tank- the price varies too.
This works superbly in that it does a good job in terms of lessening chloramine and chlorine toxicity in the tank water and commonly makes tap water harmless for your aquarium friends.
In addition, this is the right choice if you are adding fish into a new aquarium or replacing water to aid in keeping things healthy and crisp. This works in both freshwater and saltwater tanks which means there is nothing to worry about choosing the right one.
And, this conditioner is good at detoxifying heavy metals that are present in your tap water. When it comes to price, the price of this bottle is literally more inexpensive than other water conditioners and if you're going to compare it with some store prices.
However, it seems that this conditioner works exceptionally for large tanks as it is too concentrated for tanks that come in smaller sizes. Also, it comes with very strong and foul odor when opened.
Available in several bottle sizes
Ideal use for both freshwater and saltwater tanks
Does not have any effect on the pH level of the aquarium
Helps minimize the levels of chloramines and chlorine toxins
Inhibits tap water chemicals from causing any harm to the tank occupants
Quite concentrated for tiny tanks
Comes with strong odor
All in all, this water conditioner is a good option to consider if you wish to deal with chloramines and chlorine toxins in your tap water. It does not have any adverse effects on your tank water's pH level and greatly aids in combat heavy metals that exist in your tap water too. It is not that pricey as compared to other brands. It takes care of the chemicals in your tap water so you can ensure that your tank inhabitants remain safe and healthy.
3. Tetra AquaSafe Plus Water Conditioner
Would you like to ensure getting the real value for your hard-earned money for a fish tank water conditioner? Then, Tetra AquaSafe Plus Water Conditioner can guarantee that for you.
This conditioner will allow you to delight in all the best possible perks and outcomes that will be noticed and obtained in a matter of a few minutes. Some of these perks consist of the neutralization and reduction of chloramines and chlorine in the tank water and the concentration of heavy metals that are present in your aquarium water.
Essentially, Tetra AquaSafe is capable of adding an additional slime layer to every fish residing in the tank. This is quite advantageous in that it considerably aids heal any injuries your fish suffers from and it also provides a shield for your tank inhabitants against any toxins or other threats present in the tank water. Thus, this helps make your fish healthy and happy.
Since this is a highly concentrated bottle, it only requires an amount of 1 teaspoon to your aquarium and this amount is already enough for medicating a tank that contains 10 gallons of water. This conveys that your bottle is designed for many uses and there is no need to purchase another one more frequently. This conditioner is budget-friendly so it is ideal for those with limited budgets!
However, you need to be careful when using this because it comes with a wide mouth and may cause some spills when pouring it. It has the tendency to leave a film on the water's surface when added in the tank.
Capable of forming a slime layer that heals and protects fish from toxins
Cost-effective water conditioner solution
No negative effect in the tank water's pH level
1 teaspoon can treat a tank containing 10 gallons of water
Can guarantee fast results
Comes with very wide mouth
Leaves a film on the water's surface
Basically, this is a wise purchase in that it is relatively affordable and with a small dosage it could already treat a 10-gallon tank of water. Therefore, if you are searching for an effective and reliable water conditioner, then this will work best for you!
4. Aqueon Tap Water Conditioner
Aqueon Water Conditioner is a well-known fish water conditioner precisely because it comes with nearly everything that you especially require in making tap water harmless for your tank inhabitants. It works in neutralizing both chloramine and chlorine. It does a sterling job at detoxifying ammonia as well as heavy metals from fish waste and chloramine.
This product can be utilized any period you add new water to the tank. It is ideal for use when setting up a new aquarium as well and in executing partial water replacements. Please note that it is crucial to strictly adhere to the instructions on the bottle.
Aside from being reasonably priced, this conditioner is also adequate for any tank size and it comes in distinct quantities ranging from 8 oz. by up to 1 gallon. After applying this conditioner in the aquarium, you will be amazed of its capability to immediately stabilize the tap water so you can enjoy fast and satisfying outcomes.
You can use this conditioner when filling the tank with tap water, when executing water replacements or when adding fish to the aquarium. It surely works excellently and is quite easy to use and it is absolutely critical for your tank's success.
Meanwhile, the downside of this product is that it is not that reliable when it comes to promoting the natural slime coat regeneration of the fish. Indeed, it has the tendency to leave a foamy film on the tank. Others claim that it is not recommended for saltwater tanks.
Works superbly like expensive brands
Does not come with foul odor and it's colorless
Comes in a pocket-friendly price tag
Superb supplement for stressed, netted and transported fish
Can immediately make tap water harmless for tank occupants
Does not promote natural slime coat regeneration
Leaves a foamy film on the tank
Right to it, if you are looking for a water conditioner that could create a stress-free habitat for your tank occupants, then this product is the one you have long been searching for. It is
highly recommended for smaller betta bowls
that do not have filtration and circulation.
5. Tetra EasyBalance PLUS Water Conditioner
It is definitely not an easy job to purchase the best aquarium water conditioner for fish considering there are so many choices to ponder on. This product can essentially aid in reducing the number of substances that are specifically necessary to keep the fish tank and your finned friends in good condition.
Moreover, Tetra EasyBalance can help you in making your aquarium water a lot easier to manage and clean. Hence, you don't need to worry about having a tough time cleaning and maintaining the tank on a frequent basis just to ensure that your tank inhabitants are safe and healthy.
If you wish to reduce the stress, time and labor when cleaning and maintaining your fish tank, then this water conditioner can help you do that! It works like a multipurpose product that could help you save more pennies, labor and time. If you hope to make your aquarium hobby a success, then you need not further your water conditioner search.
So, rather than dealing with cleaning and maintenance-related issues, you can finally concentrate on enjoying your hobby! It is one great way to combat all the toxins and other threats that put your finned friends in danger.
Nonetheless, this product has the potentiality to turn the tank water slightly cloudy when added to the aquarium- luckily; this vanishes after a few hours which means it is not a serious concern to worry about. You also need to be extra cautious as this conditioner is said to be not that ideal for fish tanks that come with low oxygen conditions.
Struggle-free to use
Can maintain normal chemistry levels of aquarium water
Superb at monitoring pH and alkalinity levels
Helps reduce frequent tank water replacements
Capable of bringing back minerals, electrolytes and vitamins for tank health
Tends to make tank water overcast
Not ideal for aquariums with low oxygen condition
To sum up, this water conditioner is the product you especially need to maintain the overall safety and health of your aquarium and its occupants. It is great at minimizing the number of products required to help keep the aquarium and aquatic creatures that dwell in it in the best possible condition.
6. API Stress Coat
API Stress Coat is a substantial staple in aquarium maintenance. It helps in cycling a new tank and works wonders in eliminating chloramines and chlorine and it can amazingly detoxify heavy metals so it could considerably assist in making tap water harmless for your aquarium buddies.
In the same way, this is the right water conditioner that could assist in replacing the slime coat and keep your tank fish coated and slick. You no longer have to worry about dealing with injured scales and fins because this product will help you medicate those problems.
If you are searching for a conditioner that could also help you promote fin regrowth, this product can do that for you as well. For a fact, it can keep the fish's fins beautiful, energetic and long. This is ideal for tank plants too; and most importantly, it lessens fish stress from a new tank syndrome. It is good to know that this can also be your ally in terms of shielding your fish against infections as well as various ailments.
The drawbacks of this conditioner are its slightly unpleasant smell; what's more, it is not that affordable particularly if you are currently on a budget. Nevertheless, with its superb power to combat threats and toxic chemicals, you have nothing to ask more.
Comes with dual action formula that eliminates chemicals and safeguards fish
Contains Aloe Vera to help keep tank inhabitants stress-free
Comes in several distinct bottle volumes and sizes
Adept at reducing toxic chemicals from tap water
Ideal for introducing new fish and medicating injured fins
Slightly stinks
Not budget-friendly
If you wish to invest in a highly effective and reliable water conditioner product, then API Stress Coat won't let you down. This is suitable for both saltwater and freshwater tanks, ponds and gardens. It comes with lots of functions and capabilities that could guarantee the safety and good health of your aquarium dwellers. You can finally rest assured that your aquarium pets can be kept in the best possible condition and that you can provide them with the best possible care and maintenance.
7. Fluval Hagen Water Conditioner
Fluval Hagen Water Conditioner will absolutely execute a great job in replacing water with tap water and when setting up a new fish tank. It has the capability to eliminate chlorine and other toxic molecules from tap water immediately. Furthermore, this product is a high-quality option when it comes to fish tank maintenance.
You may also utilize it when moving your fish tank as the main de-chlorinator and you will be guaranteed with zero fish extermination within just a few minutes of the tank acclimation period.
It is interesting to note that this water conditioner is also touted as one of the most sterling nitrate removers for freshwater tanks. If you want to solve the toxic threats that lurk inside your fish tank and make sure that your tank dwellers are in good condition and free from any harm, then it is just right for you to invest in a reliable and efficient chemical exterminator that could solve those problems right away!
Be that as it may, since this water conditioner requires double the amount when treating chloramines, you will consume it more instantly considering you will require a dosage of 10 ml for a 10-gallon fish tank. It does not come with a concentrated formula. This can be costly since it comes with an expensive price tag.
Can help make tap water risk-free for tank occupants
Safeguards the fish's delicate mucous membrane
Counteract heavy metals, chloramines and chlorine
Comes with patented stress eliminating formula
Highly recommended for use for saltwater and freshwater tanks
Double dosage is required to eliminate chloramines
Doesn't come with concentrated formula
In a nutshell, this water conditioner may be costly, but it surely works superbly without any bad effects on your aquarium pets and other aquatic creatures. It is a great choice if you want to solve your chlorine problems and when you wish to neutralize them. In like manner, it is also ideal for use in saltwater and freshwater tanks. This is a valuable product that would work like magic in your general aquarium maintenance.
8. Natural Rapport Water Conditioner
Natural Rapport Professional is preferred by many tank owners because it is regarded as an all-in-one product that is capable of immediately eliminating chlorine and works like magic when detoxifying chloramine, nitrites and other heavy metal metals present in the aquarium water. So, if you dream of getting rid of your fish tank chemicals issues at once, you need to invest in a high-quality product like this one.
More than that, it can also add electrolytes to the water, it encourages fish safety and health and does not in any way bring about negative effects on the pH level of tank water. You could utilize this conditioner when installing a new fish tank, whenever you replace the water in the aquarium or during maintenance. This is safe to use for both saltwater and freshwater tanks.
Take in mind that there are a few negative things you need to consider before buying this product; if you hope to solve your nitrates problems, this is not the ideal option for you. And, do not be surprised if you see the tank water turn gloomy when you add this conditioner as this is just a natural occurrence and does not pose any threats in your tank occupants. The cloudy state will disappear on its own after a few hours.
Capable of promoting healthy slime coat for the fish
Can naturally eliminate and detoxify chloramine, chlorine, nitrite and ammonia
Ideal for live reef tanks
Highly recognized for being an all-in-one water conditioner
Harmless for saltwater marine invertebrates, crustaceans and aquatic plants
Can turn tank water a little bit overcast
Not recommended for eliminating nitrates
On the button, this water conditioner can serve as your fish tank's lifesaver. It is quite handy that you can use it whenever you replace the water in the aquarium. This will certainly give you peace of mind in reducing various chemicals and chlorine particularly if you are using well or tap water for your aquarium.
9. Tetra BettaSafe Water Conditioner
Tetra BettaSafe is a premium quality water conditioner that is specifically ideal for your betta. It works top-rated in keeping your betta's slime layer in a more excellent shape and the tank water is sure to become harmless and healthier for your aquarium dwellers.
You only need to add a total of 7 drops per gallon and you can have the peace of mind that your water will be free from chlorine. It aids in eliminating other heavy metals that may be harmful to your aquatic plants and fish.
This betta water conditioner may be safely utilized in all the water you add to your fish tank. Likewise, it could also be utilized with other ornamental fish which implies it does not just focus on your betta alone. See to it that you go over the product's directions carefully. This comes in multiple bottle sizes to cater to your requirements.
However, this bottle size comes in small quantity so it may require repurchase. This is the reason why it is better to consider the size of your tank and other factors that could affect the amount of water conditioner that you need to use.
Can work quite fast in de-chlorinating tank water
Risk-free and efficient to utilize
Comparably cheaper as compared to other brands
Capable of encouraging protective slime coating for fish
Highly recommended for medicating Betta fish tank
Bottle size comes in small quantity
Incorrect dosage could affect its effectiveness
In conclusion, Tetra BettaSafe is easy to use and has been tested and proven to be effective. It has the power to eliminate all toxic chemicals from your tap water and this is beneficial to your fish tank inhabitants specifically for your betta. It has the capability to encourage protective slime coating for your fish so that your finned friends can stay safe, happy and healthy.
And, since it contains advanced technology to restrict heavy metals in the water, they could be eliminated instantly in the filter. It comes with a less expensive price tag so it is absolutely pocket-friendly for those who are on a budget.
10. Premium Complete Water Conditioner
Are you overly concerned about the smell of the tank water conditioner that you use? Well, many of us do not prefer water conditioners that come with very strong and foul odors. Luckily, with Premium Complete Aquarium Water Conditioner, you don't need to deal with that problem anymore. This product contains all-natural additives so it does not produce any awful odor.
Besides, this is a risk-free tested formula that works outstandingly in eliminating chloramines, chlorine, nitrates, ammonia, and nitrites and is also good at detoxifying heavy metals. As you can see, this seems to be a very comprehensive water conditioning product that won't allow your aquarium dwellers to suffer again.
Needless to say, you definitely prefer remarkable outcomes. If you are able to follow the directed dosage when it comes to using this water conditioner brand, then you can combat all the various threats and toxic chemicals that are pestering your tank water. Best of all, you can get this product with 3-month warranty support.
What makes this brand distinct from other water conditioning products is that it is highly trusted for use with all saltwater and freshwater species such as various invertebrates like snails and shrimps and live corals. This is safe to use even for the most delicate fish and live-planted tanks.
The not-so-good side of this product is that, unlike other water conditioners, it does not have the capability to support slime coat protection.
Comes with gilt-edge formula
Can guarantee superb and fast performance
Capable of ensuring remarkable results
Does not come with strong and foul smell
Ideal for marine, freshwater and reef tanks
Does not support slime coat protection
Slightly pricey
To conclude, if you opt for a water conditioning product that does not come with foul smell, works fast, can effectively combat all potential chemicals and other threats in your fish tank and where you could obtain a great quantity for the price, then you are so fortunate because you can end your search here. This is the right choice if you want to free your aquarium from toxic chemicals that could exterminate your tank dwellers.
What to Look for When Buying an Aquarium Water Conditioner
If you are filling your aquarium with well or tap water, then the use of a high-quality water conditioner is especially required. It is essential to understand that tap water contains chemicals that even though they are risk-free for humans, could be perilous to tank inhabitants.
Utilizing a water conditioner is an easy and efficient method to keep your finned friends safe, healthy and happy. Such a product is not costly and it works through a streak of chemical reaction that gets rid of dangerous substances from the water or transforms them into something harmless.
At present, with lots of water conditioner options, it may be challenging to pick the one that's right for you. Hence, it matters to explore the following purchasing guides below before taking the plunge when buying the right water conditioner for your aquarium:
Can serve as an exhaustive formula that safeguards tank occupants against nitrites, chlorine, ammonia, heavy metals and chloramine that exist in tap water
Can be utilized when water is replaced or topped, or when a tank is first set up
Promotes a vigorous slime coat
Is it ideal for both freshwater and saltwater tanks? Many conditioners are appropriate for use with both saltwater and freshwater, but keep in mind that not all of them are like this. So, it is advised to review the manufacturer's guidance first in order to verify whether the product is appropriate for the kind of water you are currently working with.
Comes with a formula that adds valuable electrolytes to the water in order to stimulate the health of the tank inhabitants
What chemicals does it work with? When picking a conditioner, see to it to check the manufacturer's recommendations carefully as this might require being coordinated with another product to provide comprehensive water care.
Please be advised that something to search for when buying a water conditioner system is a system that comes with some type of corrosion shield on it and a good warranty. Not to mention, it is critical to look into the cost of service, replacement parts' cost as well as ongoing maintenance so you could decide whether the system is economical for a specific situation and whether it will satisfy water needs over time.
Other Important Factors to Consider
What is an aquarium water conditioner?
Water conditioners for fish tanks commonly come in a liquid form and such products are comparably less costly. You can say that a conditioner is of premium quality when it is capable of getting rid of heavy metals and other hazardous materials from tap water, making the tank water fully livable for your tank occupants. They disintegrate the bonds between ammonia and chlorine, substantially getting rid of chlorine from the water.
Some water conditioners can even contain a guarding slime to the tank water that benefits the fish' health and this is done by putting a layer of protection between their scales and any other existing pollutants in the water.
How does it work?
The water conditioner is quite valuable when it comes to cleaning the tank water and makes the aquarium a risk-free hub for the fish. So, how does it actually work?
The tank water conditioner will begin working through counteracting the chlorine present in the water. And, this could be executed by the formation of ionic bonds and therefore it will distribute the chlorine in the water to safety components. When this takes place, the water should then be harmless for the aquatic plants and fish.
In addition, the same chemical procedure shall emerge when it comes to eliminating other components like heavy metals and chloramine.
What are the different types of water conditioners?
Water conditioners are utilized to treat hard water – this is the water that comes with more minerals as compared to soft water. More than that, these minerals could bring about a build-up in plumbing systems, and this may result in leaks and other very expensive damage.
These are also utilized to aid in softening water since many people do not prefer the feel and taste of hard water.
Here are the different kinds of water conditioners:
Magnetic water conditioner. This could be setup into a plumbing system so to ward off limescale from flourishing. Calcium ions are changed by the magnetic system.
Furthermore, this kind of water conditioner fits out the water for drinking and is less pricey to buy, operate and install. The setup process is easy and generally does not necessitate the assistance of a plumber of the contractor. This works great in keeping calcium in water which is another health benefit.
Tank water conditioners are the more typical kind. These are generally available in the form of a tank that works by processing the water and getting rid of minerals that bring about hard water. Such devices utilize potassium and sodium to condition the water.
Sizes differ; there are those that are big enough to treat water for an entire house full of people dwelling in; there are those that are small enough and are practical when a consumer prefers to concentrate on just one area, like water for showering and kitchen for drinking.
Metered water conditioner. This is built with an electronic memory system so which means it solely conditioner waters as necessary. A few of the perks of this type of system consist of a memory backup that can be utilized in the event there is a power interruption. With this, the system does not require to be reset and conditioned water is ready for use.
Digital water conditioners. These are increasingly becoming more cost-effective and renowned. This kind of water conditioner comes with similar functions as regular conditioners; the only difference is that it utilizes more excellent technology that could aid save more money and time in the long run.
They utilize less salt as well as potassium and only call for little maintenance.
Take note that there are several systems that come with add-ons like heavy metal filters and chlorine remover.
Why do you need a water conditioner? Benefits?
Water conditioners will remove the chlorine that is usually found in tap water. Chlorine as the chemical is exceptional in terms of keeping the bacteria and other microbes out so that you can utilize the water for human usage.
Keep in mind that the same level of chlorine chemical that is harmless to humans could instantly be dangerous and could exterminate the fish in the tank. So, it is crucial to utilize the water conditioner in order to assist with eradicating the chloramine and chlorine that may be present in the water.
Essentially, this is not merely about eliminating the chlorine chemical, water conditioner also plays a vital role in getting rid of heavy metals that exist in the water. It is essential to know that it is common to uncover such heavy metals in your tap water.
Also, it should be superb at removing nitrates, nitrites and ammonia in the water. Evidently, with the aid of a water conditioner, you can often end up having clean water in the aquarium.
Hinging on the water conditioner that you use, could also aid in forming a slime coating that is especially substantial for safeguarding the fish. Generally, it is a must to have a risk-free environment for your finned buddies and aquatic plants.
There are a number of reasons that pond and aquarium owners alike decide to utilize a water conditioner. Since it plays a vital role in maintaining clean and safe water for your tank occupants, the benefits it could provide are quite immense to ignore.
Here are the perks of using a water conditioner for your freshwater or saltwater tank:
Water conditioners are easy to utilize.
They aid in making tap water harmless for fish to dwell in – this conveys that there is no need for tank owners to search for an alternative water source.
These are economical ways to sustain maximum water quality.
They are adept at eliminating ammonia and chloramine from the water.
Conditioners are good at supporting your fish's natural slime coat.
They help keep tank water in good condition so this could lead to healthier and longer lives for your finned friends.
Most water conditioners won't impact the pH level in your aquarium.
Some conditioners do a superb job at supporting beneficial bacteria in the water just like what a probiotic does.
They lessen scaling in pipes.
Conditioners minimize yellowish or whitish spots that surround drains or faucets.
These generally cost less to set up.
They do not necessitate much maintenance.
Water conditioners do not waste water.
Frequently Asked Questions
Can I put a water conditioner with fish in the tank?
Using a water conditioner with fish inside the tank is certainly possible. All these products are built to ensure their use doesn't harm the fish or creatures in these enclosures. So if you're wondering is water conditioner safe for fish or I can use Aquasafe while the fish are in the tank, the answer is yes.
However, I recommend using a different method. It's a much better idea to condition the new water before adding it to your tank. As a result, the water conditioner will have no chance of disrupting your tank's environment.
How long after adding water conditioner can I add fish?
The water conditioning process should take at most 15 minutes. Of course, this amount of time can change based on your water conditioner. But most will take about 15 minutes to treat all the water inside your tank. Once this period passes, add fish to the aquarium.
But again, read the water conditioner's package for any special instructions. It's an easy way to avoid issues when placing fish back into the tank after using these products. Of course, the same rules apply for turtles or other aquatic creatures.
Can fish overdose on water conditioners?
One common question from newbies is can too much water conditioner kills fish. Unfortunately, the answer is yes, but it would take a massive amount. You'd have to dump the entire bottle into the tank for them to overdose and die.
However, it doesn't mean aquarium owners shouldn't proceed with caution. It would be best if you stuck to what's recommended in the directions. If you do, the product will condition the water while doing its other described duties, such as being an ammonia remover.
Refrain from assuming every water conditioner has the exact directions, too. It's not the case, as the mixing ratio may differ from product to product. So please, pay attention and follow them whether using conditioners for planted aquarium tanks or fish tanks.
Will the water conditioner lower pH?
Most water conditioners won't lower or raise your tank's pH levels. But it's a feature that can vary from product to product. So if anyone's concerned about it, read through each product description to ensure adjusting pH levels isn't a concern.
For instance, the Seachem Prime Fish Tank Conditioner will not affect pH levels. However, users can expect these fish tank drops to work as an aquarium dechlorinator and condition the water effectively. It also does an excellent job controlling nitrates and nitrates.
Is Amquel or Prime a better water conditioner?
The Amquel vs Prime water conditioner debate is a common one among aquarium hobbyists. Both products are high-quality choices known for excellent results. Honestly, you'd be okay with using either inside your fish tank.
But my preference is to use a Prime water conditioner. The main reason is that it's more cost-effective and lasts longer than Amquel products.
What are the most trusted water conditioner brands?
Some of the most trusted water conditioner brands that many aquarists and consumers prefer to include the following:
Seachem Prime Fresh and Saltwater Conditioner
Tetra EasyBalance PLUS Water Conditioner
API Stress Coat
Tetra BettaSafe Water Conditioner
API Tap Water Conditioner
Do water conditioners work instantly?
In truth, not all types of water conditioners are made equal. A few of them only counteract chlorine but not chloramine; on the other hand, other types come with a comprehensive package of specifications that may not be really necessary.
Dechlorinators work fast and efficiently in eliminating chlorine but they don't remove heavy metals or ammonia. Under other conditions, other complete conditioners counteract ammonia and chlorine and also detoxify dangerous heavy metals and alleviate copper from water.
Meanwhile, chloramine neutralizers are practical to use because they do not merely eliminate chlorine but also get rid of bothersome ammonia and at times tackle heavy metals too.
Do aquarium water conditioners expire?
Yes. You may refer to the expiration date of the tank water conditioner you purchased on their label. Generally, they have long periods of usage provided that they are stored properly.
Can water conditioners remove ammonia?
Some of them could detoxify nitrite and ammonia but not permanently.
Do live aquarium plants need water conditioners?
Water conditioners are not merely intended for most fish. For fact, another typical group of water conditioners is none other than plant food. Therefore, if you decide to add some live or aquatic plants to your aquarium, those plants will particularly require proper care as well.
How much water conditioner to use in aquarium?
Generally, water conditioners come in a concentrated formula that is capable of medicating up to 600 gallons of tank water with just a single ounce. The amount to be used usually depends on the brand you utilize. In general, you may consider adding 1 ml for every 20 gallons of tank water when treating.
For small-sized aquariums, such as Betta tanks below 20 gallons, it could be tough to gauge the exact amount with the cap. Usually, a couple of drops are needed. This could already aid in making your tank a harmless hub for your fish.
Note that the figure may differ in accordance with the size and number of gallons of your aquarium.
How often should I use aquarium water conditioner?
Water conditioners are only utilized to neutralize tap water when you are changing the water in the tank periodically. You only utilize it when adding new water to the aquarium. Alternatively, you only add the conditioner when your aquarium has water inside it so you can determine the precise amount you are required to use.
And, another appropriate period to add water conditioner is when you are installing a new aquarium. It is advised to utilize this product prior to scheduling weekly water changes.
How to choose the right size?
All water conditioners come with directional guides included in their package that clearly indicates to users the right and recommended amount to be used.
Please take note that the amount could differ as per the size of the aquarium. This means that the more gallons of water the more conditioner is necessary to be added.
In like manner, the dosage also hinges on specific brands of conditioner. A few of them require more as compared to other brands.
How to use?
You only need to pour the recommended dosage or amount of water conditioner when setting up a new tank or when doing water replacements periodically. Again, the dosage will depend on how small or big your aquarium is.
How to care, storage?
Water conditioners need to be stored in a cool dry place away from direct sunlight. Be sure to follow the instructions in their label to ensure their effectiveness.
Where to buy?
You can purchase tank water conditioners in various pet or fish stores. If you want to shop online, you may refer to Lowes, eBay, and Amazon or other reputable online shopping sites on the web nowadays.
Conclusion
By the time you decide to keep an aquarium, you also need to accept the fact that keeping one is not smooth sailing. It is your sole responsibility to keep your fish tank safe and clean for your aquarium pets and one way to do so is to be able to pick the right water conditioner for your tank.
Without any shadow of doubt, you cannot solely add tap water to the tank and expect the tank inhabitants to thrive. Now that you have gained insight regarding the best aquarium water conditioners that were reviewed in this article, then you must be in a position to invest in one of the most outstanding products for your fish tank today.
Over and above, each of the brands reviewed above will certainly provide you with the ultimate performance that you truly deserve in terms of medicating the water. You can select hinged-on preference.