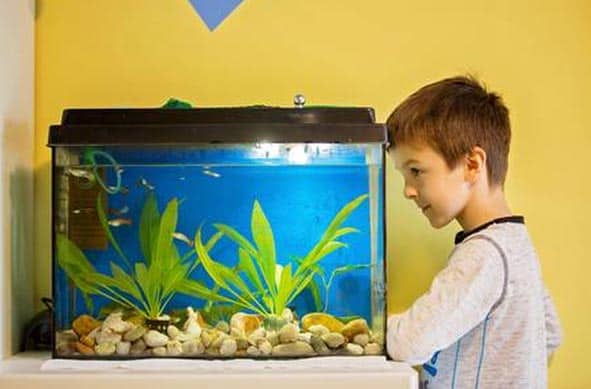 If you are thinking of the most meaningful gift that you can ever give to your child who is 4 years and above in age; then the best choice for this is the best fish tank for kids. Aside from the joy that an aquarium brings, this could also be one great way of teaching your kids on how to nurture other living creatures; thus this would shape them to become more responsible beings.
However, prior to making the final purchasing decision, it is helpful to check out the product reviews explored in this post as well as some of the most important buying guides that need to be looked into before getting one. Also consider your child's personality and habits. See to it that your child is ready to have one.
Continue reading the rest of this article and compare the different products tackled here so that you can come up with the best option that would not only excite your child but would also teach him how to take care of fragile creatures that need love and caress. Before buying one, make sure to weigh the features, pros and cons of the fish tank you're planning to purchase.
Best Fish Tank for Kids Reviews of 2022
1. Tetra LED Half Moon Aquarium
If you are searching for aquariums for kids that are not that tedious to take care of, then this fish tank can be your best match. Since it is not that big, this is a great pick for a kid who is going to look after an aquarium for the first time. This can look stunning wherever you place it and it is quite portable too. So, if you are still having tough time thinking about what ideal gift to give kids this holiday season, then this is the most suitable choice!
In addition to this, it is plain sailing to install and comes with a neat look. In point of fact, what make it even more impressive are the cordless LED lights that call for a total of 3 AA batteries for them to illuminate the entire fish tank. This is big enough for a betta fish to roam and swim around and enjoy enough space to thrive.
However, there are plastic bumps located underneath the tank that makes it impossible to put artificial plants that have huge bases. Also, this seems to be not that durable when it comes to permanently keeping betta fish. These are a couple of the minus points that this fish tank have.
Pros
Half-moon shaped and transparent tank with feeding hole and transparent plastic canopy
Enables very clear and full viewing window
Highly practical option if you prefer keeping betta fish
Designed with LED light that can be repositioned
Not that expensive
Cons
Comes with plastic bumps at the bottom of the tank
Not recommended for long-term betta fish ownership
Overall, this fish aquarium for kids is a sterling way to come up with a focal point in any room. It is beautifully manufactured with LED light that can be repositioned and illuminates underneath and above. This fish tank will certainly delight your kid as it can ensure full and clear viewing window. And, for the price, this is ideal for those with limited budget. It is a nice, simple yet fascinating gift that you can buy for a kid who is into fish keeping.
2. Koller Products AquaView 360 Fish Tank
Do you prefer buying cool fish tanks for kids? Then, this mini aquarium can satisfy even the pickiest child. It comes with a total of seven vibrant color selections that are especially intended to superbly illuminate your pet fish. Indeed, this is great value for the money in that it does not consume excessive energy.
This fish tank is reliable and durable and it can ensure leak-proof assurance. Unlike glass tanks, since this is not prone to instant damage, it won't put you in a situation where you will constantly worry about leak problems in your aquarium. It is smooth sailing to set up and it does not call for high maintenance.
You can position this fish tank anywhere you prefer. It needs three triple A batteries which you need to buy separately. Meanwhile, the power adapter allows light to be easily plugged into household electrical outlet.
On the other hand, a few of the minor gripes that you need to uncover about this fish tank are the separately sold cord that you use to plug it; as you know, this means an additional cost for you to consider. And, the pump seems to be made with cheap quality material that makes it incapable to last long.
Pros
Manufactured with very durable and powerful internal power filter
Setting it up is a breeze and requires low maintenance
Designed with impact-resistant plastic material that comes with very lucid clarity
Helps ward off organic contaminants
Can guarantee energy-efficient LED lighting that offers marvelous illumination
Cons
Comes with a pump that does not last long
Plugging cord is sold separately
All in all, if you want to ensure buying kid friendly fish tanks, then you may check this out. It is compact yet it works efficiently. You can keep it in the kid's bedroom since it is made with silent filter that won't disturb your child's sleep. This is an economical option too since it is specifically built to be energy-efficient with gilt-edge LED lighting that comes with 7 awesome colors that could radiantly brighten the whole fish tank. And, the best of all, its well-designed internal power filter can help get rid of organic filth in the tank so you can rest assure that your fish are safe and sound.
3. Tetra 1.8 Gallon Waterfall Globe Aquarium Kit
Are you currently hunting down for the most reliable starter fish tank for kids? If so, this product will leave you definitely amazed. There is no need for you to have second thoughts whether this will be appreciated by your kid. With its appealing design, this will definitely be loved by everyone.
By the same token, this small aquarium is big enough where your fish can play and swim around. And, you can also put in some mini decors if you want. Even if it is the first time for your child to keep one, this won't be troublesome to manage, clean and maintain. Take in mind that the plastic piece on the waterfall plays a very vital role if your own a betta.
Also, the filter and the light are powered by the same cord so this implies that you only have to plug into one outlet. Note that it is necessary to turn the light off while keeping the filter operating. The cord is lengthy enough to reach the outlet. Surely, this fish tank is so easy to set up even for novices.
Notwithstanding, this fish tank comes with very strong water flow that could disturb a betta. And, the hinge on the light hood is slightly loose making it unstable. This mini aquarium would have been better if these irregularities are improved.
Pros
Comes with sturdy pump driven power filter
Designed with distinctively designed waterfall feature
Manufactured with on and off button for light
Provides easy to understand setup instructions
Built with cartridge based filtration
Cons
Way too strong flow of water
Hinge on the light hood is slightly loose and unsteady
Right to it, this could be your best bet if you are eyeing to shop for fish tanks for kids rooms. The pump of this mini aquarium is noise-free and it is surprisingly more than adequate for the size. Undoubtedly, this is ideal if you wish to flaunt your exotic tiny fish. Just make sure not to put a lot of fish inside to avoid congestion though. Additionally, this tank's globe design is perfect for magnifying what's inside your aquarium specifically when you look through at it at the right angle.
4. Aqueon Princess Castle Aquarium Kit
If you literally want to purchase very small fish tank for kids, this option won't leave you feeling disappointed. Since it is too small, your little girl won't even sweat a bit cleaning and maintaining it. Its castle shape design will absolutely melt every young girl's heart. As a result, this could be the best pick to give to your little daughter who loves to nurture little betta fish.
Basically, this mini fish tank is great precisely because your little one will find it quite easy and enjoyable to feed the fish through the hole on the top. And, it will be a lot easier for your toddler to learn how to clean and maintain it since it is super small to manage. Without doubt, this is the ideal size for your toddler to take pleasure in her betta. If you want, you can also place this in your daughter's room.
Likewise, everything comes ready to go and all you need to do is to select the betta fish that you're going to put in it. This is fun way of introducing to your toddler how to take care of tiny fish and help her keep herself busy whenever you need to do your household chores too.
Howbeit, this very small fish tank seems to be quite small even for a betta. It would have been better if it was designed to be a little bigger. And, it tends to get damaged easily. Thus, it is critical to carefully inspect the product first before making the final purchase.
Pros
Designed with castle-shaped lid that comes with feeding hole
Offered at budget-friendly price tag
Highly recommended for one tiny tropical fish or betta
Easy to set up, clean and maintain
Already includes decorative gravel and fish tank plant
Cons
Too small even for a betta
Tends to break easily
In a nutshell, if you want the perfect toddler fish tank for your little girl, then this is the best choice that would definitely satisfy the unique taste of your little one. As you can see, it is so adorable and your kid won't have a hard time taking the lid off at feeding time. So, even your kid is literally so young, this is safe for her to look after. Its ease of setup, compactness, cuteness and affordable price tag are what make this mini fish tank one of the most sought after options that mothers around the globe purchase.
5. MarineLand Portrait Glass LED Aquarium Kit
Searching for the best aquarium for kids can be challenging particularly if it is your first time to buy one. Luckily, there are various options available on the market these days.
This fish tank comes with a filter motor that is noise-free and the required filter cartridges are not difficult to find at any local fish or pet store or through online. And, it is designed with a motor that comes with 4 mini suction cup feet to ensure steadiness. In line with this, the switch plug is quite secure and it won't leave you feeling anxious about water penetrating into the connection.
Essentially, the pump and filter caddy are beautifully concealed in the back compartment and there is just adequate space to squeeze a tiny submersible heater too. It cannot be denied that this is a topnotch rimless glass fish tank that comes with affordable selling cost. As you can see clearly, this comes with superb visual appeal and it is certified perfect pick for first-time fish tank keepers.
Withal, a few of the glitches that you must uncover if you decide to buy this fish tank are the very big inlets for filters that could potentially cause shrimp deaths and the glass cover leaves mini crevices in the range of the rear wall and front corners that could allow tiny and shrewd critters to escape.
Pros
Designed with adjustable flow filter pump
Comes with white colored LEDs that make radiant light in the tank water
Includes hinged light as well as sliding glass canopy to enable fast and easy access
Manufactured with exquisite three-phase concealed back panel filtration
Comes with blue colored LEDs that generate soothing moonshine brightness
Cons
Glass cover leaves mini crevices in the range of the rear wall and front corners
Comes with quite large inlets for the filter
Generally speaking, the portrait orientation of this mini aquarium can suit well the corner of a work desk or a kid's study table. And, if you're going to look at it closely, you will observe that the seamless edges look fascinating. If you want, you can also place a heater and a carbon dioxide diffuser at the rear section of the chamber. As for the price, impressive design and sterling features, this is a great deal.
6. Playlearn USA Artificial Mini Fish Tank
Shopping for children's fish tank does not need to be so exhausting if you make your own research first. Fortunately, if you are more than willing to invest in a great alternative to a real mini aquarium, then this brand won't dishearten you. Judging based on its adorable design and some other practical features, this is a good catch.
If you prefer a mini fish tank that can create proper circulation for the fish, then this is it. As a matter of fact, this is a perfect example of the functionality and beauty of a fish tank without the hassle. Its ocean-like background offers a very soothing feeling whenever you look at it. And, kid will love it and would definitely encourage them to stay home most of the time.
When setting this up, filling up the tank can be done in a snap and you will only need to add two by up to four drops of dishwashing detergent and from there you could start seeing your mini fish tank come to life.
All the same, two weak points that need to be taken care of if you buy this mini fish tank are its erroneous dimensions indicated in the product description. Besides, the motor seems to be fragile as it is susceptible to getting burned out easily.
Pros
Designed with three vibrantly-colored LED lights
Easy to set up, tidy up and low maintenance required
Ideal to utilize for kid's room, offices or as home decor
Built with ocean backdrop wallpaper
No trouble to fill up and operate
Cons
Incorrect dimensions indicated in the product description
Motor has the potentiality to get damaged easily
Lastly, this mini aquarium is a great option if you prefer a fish tank with an ocean design that appears to be real. It is fun to glance at. Although it is quite small in size, it has the capability to entertain the beholder. Your pet fish can enjoy playing, swimming and roaming around too. This is straightforward to fill up and operate. It is ideal for office desk, kid's bedroom or wherever you feel like putting it. Its colorful and radiant LED lights are impressive enough to brighten up your office desk, kid's bedroom and anywhere in the house.
7. Aqueon LED MiniBow Aquarium Starter Kits
This small starter aquarium kit comes with silent-flow filtration, water and food care samples. Apart from this, it was manufactured to be compact, and comes with polished, low-profile and energy-efficient LED light hood that comes with an easy-to-access feeding hole. Thus, even if it is your first time to set up a fish tank kit, this is a breeze to deal with.
Furthermore, this can ensure fast, safe and secured shipping and you can rest assure that your small fish tank kit will be taken care of and shielded against breakage and scratches. Please note that this aquarium makes use of tiny filter cartridges. While this comes with affordable price tag, the quality and performance is unrivaled.
A few of the factors that make this product a good catch are the super radiant LEDs that are capable to work exceptionally and changing the filter is no hassle at all. Training your kid on how to clean and maintain this fish tank is not cumbersome as well.
Not the less, two flaws that you need to observe if you buy this fish tank are the necessity to purchase a heater if you intend to have a tropical fish in it and for you to surely delight in a more realistic view, you need to look at a specific angle before you can do so.
Pros
Designed with polished and low-profile LED light hood
Setup process and maintenance is manageable
Manufactured with elevated base and modern design
Compact and utilized small filter cartridges
Looks aesthetically pleasing in any room
Cons
Specifically requires a certain angle to obtain a more realistic view
Seriously needs a heater if you wish to keep tropical fish
Finally, this is unquestionably one of the top-drawer kid's aquariums that are ideal pick for great small starter fish tank kit. Your little one won't have a tough time feeding the fish because there is no need to take the lid off. And, this is not burdensome to set up and it only requires low maintenance. Since this comes with contemporary and visually-appealing design, it will definitely look stunning wherever you decide to place it. For the price, this is budget-friendly making it an ideal present to give away to little kids.
8. Lightahead Artificial Tropical Fish Aquarium
This small fish tank will certainly delight little kids given it comes with very amazing and child-friendly design. It is built with moving picture that forms the illusion of tropical fish and water in motion. And, there are multi-colored artificial fish in it too. In short, your little one can take pleasure in a virtual ocean backdrop that is moving.
If you want to purchase children fish tanks that are quite straightforward to set up and maintain, then this will work like a charm for you. In reality, what sets this fish tank apart from other brands sold on the market at present are its very soothing backdrop and its capability to function as a great night light.
A couple of the sore points that you need to inspect if you buy this fish tank are the inferior roller alignment and unlike other similar options this tends to generate irking and loud noises that may disturb both your little one and your pet fish.
Pros
Perfect alternative to a standard fish tank
Ideal for kid's rooms, desktop, living room and other places at home or workplace
Supported by the manufacturer's guarantee of satisfaction
No maintenance required
Smooth sailing to set up
Cons
Tends to produce rattling and clicking sounds that are annoying
Roller alignment is inferior
In conclusion, if you want a very colorful variety of artificial fish backdrop in a small fish tank, then this is a perfect purchase for your most precious little one. Kids will love it primarily because its design is made perfectly for them. In addition to this, it is lightweight, small and very relaxing to the eye. It can serve as a very awesome night light that your kid will be amazed about. For its built, this is sterling in that it comes with durable construction yet the price won't put a big hole on your pocket.
9. GloFish Aquarium Kit
This fish tank is manufactured with curved-front design that could handle a total of 5 gallons of water. Once purchased, this already includes medium micro bag and microfilter. It is made with acrylic and transparent cover and comes with 15 radiant blue LEDs. Many consumers prefer this mini aquarium because of its crescent shaped seamless plastic design and construction. And, this also makes use of medium-sized filter cartridge.
Needless to say, we all want to end up buying the right fish tank that comes with superb quality. The elating news is that if you give this mini aquarium a chance to prove its worth to you, not only you will be amazed but also your little one. This ensures silent operation and the LED light bar offers the aquarium a very distinctive and appealing look too. It is no surprising why this is one of the most recommendable options that fish tank starters can look into.
Regardless, a few of the drawbacks that come with this mini fish tank are the easy gets damaged lid and the LEDs appear to stream one ray of light straight up only. Consider these negative aspects first especially if you are very particular with how LED lights function in your mini aquarium.
Pros
Built with transparent cover
Comes with medium bio-bag and microfilter
Already includes a total of 15 blue LEDs
Manufactured with acrylic
Good quality medium-sized filter cartridge
Cons
Comes with slightly flimsy lid
LEDs only stream a single ray of light straight up
On the button, this small aquarium is not only admirable for its stunning LED glowing effects but it is also a worthwhile investment because it can serve as a first-rate nightlight. Truth is, the soft blue light is luminous enough to see where the doors and furniture are at; however, it is not as bright that it could already disrupt your sleep. This is not just meant to delight little kids but all people of all ages. As advertised, this is definitely worth it. You will absolutely adore it and your pet fish will thank you for it.
10. Tetra ColorFusion LED Half Moon Aquarium Kit
Would you like to buy the real deal when it comes to betta fish tanks for kids? Well, it is high time to start your search about this product. This makes a perfect option for anyone looking for a tiny aquarium and a present that you can give to a little kid. Children will love this stuff because it can guarantee color altering bubble effect.
To boot, while this fish tank is small, it can still provide sufficient enough space for your betta to have more space to play, roam around and swim. And, since it was designed to be tall rather than wide, it makes a tight footprint while offering adequate inner space for your pet fish and you can have a clearer view of him.
However, please note that this aquarium is too small that it could only shelter a single betta and a maximum of 3 guppies. And, this does not come complete which implies that you need to buy other necessities in setting up a fish tank.
Pros
Comes with color altering bubble effect
Manufactured with cartridge-based filtration
Designed with 180-degree view
Built with a lid that includes a feeding hole
Spacious enough for a single betta
Cons
Quite small and only allows a maximum of 3 guppies and 1 betta
Does not come complete once purchased
In the rear, the pump of this mini fish tank comes with generous amount of power for both the stone and the filter, but you need to see to it that the control knobs are turned to low. You will be stunned of the bubbles and light as they are lovely particulars at evening time when you could glance at their refection on the ceiling. This is also a certified pick for beginners and those who live in dorms or limited spaces. And, the best of all, you can manage how speedy you prefer the bubbles to go.
What to Look for When Buying a Fish Tank for Kids
Picking the right fish tank for kids is challenging because you don't simply buy just anything that you can see in a local fish or pet store or online shopping sites, as a matter of fact, there are must-considered factors that need to be taken into account:
Is your kid ready and old enough to manage a mini fish tank? In general, 4 years and below are not yet advised to get involved in aquarium hobby since they are not yet fully prepared enough to manage one.
Think about the location where you intend to place the fish tank. Is there enough space for it? What about electrical outlets where to plug it in? Do you have a durable and stable base where to put it?
What materials do you prefer? Acrylic or glass made fish tank? For you to easily decide on this aspect, consider weighing the pros and cons first. Pick the one the suits your little one the best.
Do you plan to add a few decorations inside your mini aquarium? Luckily, decorating a fish tank for children do not necessarily need to be humdrum, it is fun to help little kids select decors that will be in the best interest of the pet fish but are still what they prefer.
What do you prefer saltwater or freshwater? Freshwater is a lot easier to manage and is less costly; however, saltwater is fine too so long as your child is old enough, skilled enough to manage the aquarium and if you have the budget to go for it. You need to consider the two options carefully so you won't have regrets in the end.
Shape and size of the tank. Can your little one handle a smaller or larger one? Will it fit the space where you plan to put it? Which is a lot easier to set up, clean and maintain?
What type of fish do you plan to keep? How many?
Other Important Factors to Consider
What is a fish tank for kids? How does it work?
Fish tank for kids are mini aquariums that are particularly designed for toddlers and little children. And, since these are meant to be used for young kids, these are precisely designed to be harmless, less stressful to set up and maintain, not too demanding and are not that expensive to invest in. this is perhaps one of the reasons why many people consider mini fish tanks as ideal gifts to give to little kids who are into fish keeping.
Essentially, just like regular aquariums, fish tank for kids also require pumps, proper filtration, heaters, lighting, currents, pH balance, oxygenation, the right type of fish, regular cleaning, salt concentration and other required aquarium accessories for them to work and function. Once all these are properly installed, they could contribute to superb performance and extended lifespan of your fish tank inhabitants.
What are the different types of kid fish tanks?
There are a number of different types of fish tanks for kids. Besides, these come in different shapes, sizes and price range. There are those that are primarily designed for saltwater or freshwater reef. And, since these are kid-friendly, they are generally safe to use and are meant to entertain and to educate.
Freshwater fish tanks are quite easy to set up, and there are countless of fish that come from the distinct forms of water that adapt to the water during changes. Such types of aquariums do not necessarily call for high maintenance and these are often times less pricey as compared to saltwater fish tanks for kids.
Apart from these, there are also fish tank for children that come complete and are highly perceived as one of the most recommended aquarium kits for beginners. These are use-friendly and not a pain in the neck to install, clean and maintain.
Why do you need an aquarium for kids?
Fish tanks are actually beneficial for everyone. These are virtually known as stress-busters since they can help calm down a person or a little one who is feeling anxious or upset. Needless to say, sitting in front of the aquarium with someone to chat about what they see, could commonly reduce anxiety or tension and this could serve as an effective distraction if your kid is having tantrums, is not in good mood and needs to relax at once.
Having a fish tank can definitely work wonders for children. With adult supervision, your mini aquarium could become a very beneficial and fun-filled educational game that could also strengthen your bond with your little one. Hence, aside from being visually-appealing, aquariums come with lots of perks too.
Why allowing your kids have mini aquarium at home advantageous?
Looking after an aquarium can provide children with useful knowledge and this would create meaningful memories while you spend time with them and explore the wonders of a fish tank.
Letting children handle a mini fish tank on their own can better improve their cognitive skills, broaden their imagination as well as considerably enhance their emotional and social skills.
For a fact, by merely observing fish in an aquarium, this can immensely help soothe a kid suffering from ADHD since it comes with calming effect. It is worth noting that such effect help children with ADHD to have more focus and improved sleep.
By and large, these greatly assist hyperactive kids to perform more excellently in school. In other words, this is tested and proven to be an effective therapy in dealing with hyperactive kids.
Rather than allowing your little ones to spend most of their time using gadgets, introducing them to aquarium hobby could effectively distract them from being addicted to online games, surfing the net and staying immobile due to nonstop playing until the wee hours with different video games.
When you teach your kids the value of nurturing living creatures at a very early age, they will most likely grow up as responsible, caring and loving human beings. They will learn more about the value of life and the environment we live in. And, this could also encourage them to become better stewards of God's creatures.
As you can see, taking care of a mini fish tank for children is not solely for the sake of a hobby. This could also be very educational and have beneficial impact on the cognitive, emotional and social development of a child particularly those who are quite hyperactive.
In today's modern world, majority of the children worldwide are glued on playing games and surfing the net. Evidently, all these gradually take your children away. They become aloof because they choose to stay home and play games, they have less time playing with other kids, they are too busy to consider bonding time with you and they are distracted with their studies.
Encouraging children to look after a fish tank for beginners will help them have something to make them preoccupied and forget their gadgets. It is crucial to assist them but allow them to do it by themselves. This will teach them the value of responsibility and independence.
Fundamentally, keeping an aquarium can help children value nature more and broaden they knowledge not only about fish but many things that truly matters in life. Fish tanks are not merely hobbies but something that will open your eyes and widen your horizon.
Frequently Asked Questions
What are the most trusted kid fish tank brands?
If you are planning to purchase a real deal, it is quite imperative to buy only from trustworthy manufacturers. And, a few of the most credible, reliable and most sought after brands in the field of fish tanks that you can check out consist of:
Aqueon
Playlearn USA
MarineLand
Tetra
These brands are known around the world and are a few of the most reputable fish tank manufacturers that newbies and professional aquarists and aquarium hobbyists trust and patronize. The reason behind this is because they are some of the world's producers of top quality products that never fail to amaze and satisfy the needs and preferences of their most valued consumers globally.
Artificial vs Real Fish Rank: Which one is better?
If you're going to compare between artificial and a real fish tank for kids, of course, real one is more recommendable. However, artificial fish tanks do not mean that they are not good purchases, for a fact, these are useful for kids below 3 years old in age when you are preparing them to handle a real aquarium as they get a little older.
Both types come with pros and cons. But what truly matters are they are safe to use by children and that they can make children happy and learn from it at the same time.
How to care & clean?
When cleaning and maintaining fish tanks for children, you can take the following guides below:
Feeding your pet fish should only be roughly twice or thrice per day. This is enough to keep them well-nourished.
When cleaning the aquarium, this must be done at least once or twice a week. All you need to do is to change some of the tank water, approximately 25%, and then put in some new and clean water.
After that, tidy up the filter or if necessary, replace the cartridges. In case you have a literally filthy fish, you may consider using gravel vacuum to tidy the filth out of the gravel.
When it comes to changing water, as previously mentioned, consider changing approximately ¼ of the old tank water at least once a week.
If you want to keep your pet fish and aquatic plants in good condition, make sure that the tank water is kept clean all the time, you adhere to the recommended number of feeding times, provide sufficient amount of sunlight that fish needs and see to it that the filter is functioning at its best.
Fortunately, mini aquariums for kids are less demanding to manage and only require low maintenance. You can assist your kids at first but be sure to let them do it on their own.
What is the warranty?
Since almost all the fish tanks reviewed in this article are manufactured by world-class brands, these are all supported by different warranty offers. Some of them offer money-back guarantee, replacement of defective item or components, and some warranties come in limited or lifetime offers as well. This is to protect the investments of their most valued customers.
In the same way, you can read more about the warranty details in the product description. Nonetheless, if the warranty was not comprehensively discussed in this section, consider referring to the manufacturer's customer support service. This can be done through chat support services, email or phone calls.
Where to buy?
You can shop for fish tanks that are designed for kids in nearby local fish or pet stores in your region. These are available in different designs, kinds and sizes. Many of them are also made from different brands. Shopping locally though may only offer you with limited brands to check out.
Be that as it may, if you would like to browse countless of options and special freebies, discounts and promos, you may do so by visiting reputable online shopping sites like Amazon. This is one of the best online shopping sites where you can be offered with numerous product options to browse where the world's most leading brands are also found.
Conclusion
In conclusion, getting your children involved in fish tank keeping comes with lots of perks. Even so, it is crucial to ensure that no matter how small or big an aquarium is, it must be properly set up right from the beginning to surely delight your kids. As previously mentioned, with appropriate planning, you could significantly assist your kids to start a lifetime involvement in one of the most meaningful and enchanting hobbies in the whole world.
Fundamentally, it is important to ensure that your child is well-prepared to take care of his new pet and you must guide him as he manages all the work of keeping an aquarium. This way, he can master the whole process on his own in no time. Hence, if you are shopping for the best fish tank for kids, it is highly recommended to check out the products reviewed above; in so doing, you can be assured that your child will be genuinely happy in his new hobby.