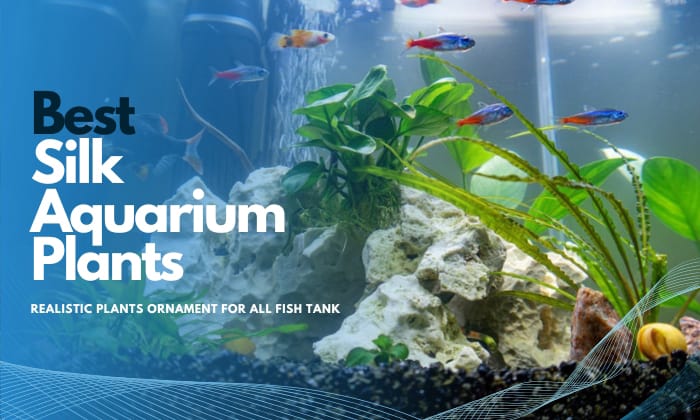 The bliss of keeping a fish tank is amusing and demanding at the same time. While you get to relax watching your marine pets swim and play around, owning an aquarium is a serious responsibility. It is critical to be extra cautious with the things that you decide to add inside the tank because one mistake can put the lives of your aquarium dwellers at risk.
Keeping a fish tank seriously requires looking after the stuff that you put inside such as the plants. At present, a plenty of aquarists prefer to add the best silk aquarium plants mainly because this comes with an authentic look. And, most importantly, these are hassle-free to maintain.
Basically, it is essential to have a deeper grasp with regards to the distinction between silk and plastic fish tank plants. It is a must to learn more about each option so you can come up with a well-considered decision. In so doing, you can be guaranteed that your fish will remain healthy and safe and the fish tank will be beautifully adorned.
The following fish tank silk plants below can help you gingerly select the best possible option for your needs and preference. So, have a careful look at each of them.
List of 9 Most Realistic Silk Aquarium Plants
1. Marina Ecoscaper Hydrocotyle Silk Plant
If you opt for the best artificial aquarium plants for your fish tank, then this item is really the best choice for an unexcelled price. The plant is soft so the fish won't feel any discomfort even when they swim around it. In the same way, its natural appearance makes a great adornment to any types of fish tank.
For the money, you certainly get what you pay for. The vanes are big enough; it comes with a little frayed edges that are not dangerous to fish and is designed with twiggy plastic stems. This is very gentle for any type of fish.
Interestingly, this could serve as a very nice foreground corner type of plant in a fish tank and it is best if kept neighboring the outflow of the aquarium's filter as a kind of bio bacteria catcher. This is said to be an ideal plant for a betta fish. You need to be gentle when cleaning it to prevent leaves from coming off easily.
On the other hand, this silk plant seems to accumulate mold easily which may be harmful in the long run if not regularly cleaned and maintained. And, there is a tendency for the leaves to easily fall off after several months.
Capable of ensuring effortless and secure placement
Comes with naturally-looking luminous color that does not fade
Designed with good shape and size
Makes a wonderful silk plant embellishment for aquatic environments
Doesn't come with sharp edges
Seems to collect mold easily
Leaves tend to fall off
Right to it, this silk plant is soft and looks like that the stems are not too tough just like plastic ones. It does not look artificial at all, it is not harmful to your aquarium pets and the best part is that it seems an ideal option for a couple of dollars.
2. Blue Ribbon Vibran-Sea Flowering Cluster
Undoubtedly, it is tiring to shop for the most realistic artificial aquarium plants these days since there are limitless alternatives to check on. Fortunately, with Blue Ribbon silk plant, you no longer need to prolong your exhaustion in searching. The colors of this plant aid make the colors of the fish inside the aquarium to stand out even more.
Moreover, the fish appears to feel more secured since they could have a hiding place just like when they are swimming in the wild. You will love to see your aquarium pets search the leaves, hide and swim around. As you can see, there are so many little places among the plants for your finned friends to roam around and hide.
The material and quality of the leaves are soft and nice and you don't need to worry about your fish being hurt. The plant adorably sways in the water unlike unsightly plastic plants out there. It is big enough and luscious. It looks realistic in water and can be easily set up in the bottom of the fish tank. The plant holds well in gravel too.
Meanwhile, please take in mind that this may not be a good choice if you keep smaller fish species. And, it specifically necessitates regular cleaning and maintenances to avoid bacteria buildup.
Approved for being harmless to terrariums and fish tanks
Designed with weighted resin base that does not come with metal stems
Comes with natural-looking and soft leaves
Looks like full and leafy floral clusters
Serves as a wonderful little set of decorations
Might not be recommended for small fish
Requires regular cleaning and maintenance
On the whole, if you prefer a vibrant and safe silk plant for your aquarium, then this is a must-try for you. This is soft enough for bettas and can create a gorgeous tank adornment that you'll love to watch every chance you get.
3. BEGONDIS Aquarium Decorations Fish Tank
BEGONDIS plant decoration is pliable, soft and ideal for fish that have sensitive fins. It moves smoothly inside the aquarium with minimal current. What is more, this could be clustered together so to provide a more natural-looking and a more secured hiding hub for your baby or shy fish that search for some privacy and seclusion.
And, the base of this plant comes with the adequate weight in order to keep them precisely where you placed them. Fish will love it because they look identical with real plants that they could find in the wild.
The vibrant green color of this plant does not lose its luster. As compared to other plastic plants, this does not look unreal. They do not have sharp points or edges. They remain upright easily and generally move naturally inside the fish tank. Please be guided that it is crucial to check the plant's height if it could fit your aquarium.
In spite of the fact that this plant looks natural and real, it cannot be trimmed or cut. And, after several months of use, this product has the tendency to accumulate some film that may cause the water to become unclear in the long run.
Comes with ravishing green color
Can create a natural-looking environment for your marine friends
Vibrant color does not fade
Looks like a genuine plant when submerged in water
Comes with very soft and hair-like appearance
Cannot be trimmed
May collect film after several months of use
To crown it all, this is one of the best fake aquarium plants that actually look nicer when grouped together since they are very thin. They look natural when placed inside the aquarium and they move gracefully that lures your aquarium pets to roam, hide and swim around. This is also very affordable so you have nothing to lose if you invest in it.
4. biOrb Easy Plant Sets
This may be similar with realistic aquarium plants in terms of appearance and the way it moves when placed in the water. It comes with broad leaves that bend out nicely and provide many surfaces for your aquarium pets to rest on. This also comes with ideal height that is specifically meant to give the plant some shield on the upper half of the fish tank.
In like manner, this plant is very easy to clean and maintain. It is somewhat made from polyester material or something identical to this. You will like its very natural and different coloration and you'll realize that it does not look unreal as compared to other plastic brands.
It is softer, so you can rest assured that your fish will find comfort in it. Interestingly, the little bulbs found at the end are quite handy when it comes to keeping them in place in the aquarium and positioning them with bio rocks.
A couple of the negative sides of this artificial plant are its slightly costly price tag and the few sharp snags present on the plant that you need to keep an eye on.
Works superbly at adding dimension and color to fish tanks
Highly recommended for fish that have sensitive fins
Great for tropical, saltwater and freshwater aquariums
Excellent size for smaller fish tanks
Comes with weeded leaves that fish will love
Comes with a few sharp snags
Slightly expensive
Generally speaking, this artificial plant comes in an assortment of distinct plants and sizes for any aquariums. It really looks stunning since the colors of each plant are brilliant. The medium-sized purple and green silk plants gracefully move back and forth in the water current and just like other expensive silk plants, this comes in a very soft texture. It can be instantly rearranged so it could create a fascinating aquarium décor for your fish.
5. QUMY Large Aquarium Plants Artificial
A good alternative to silk plants for aquariums is none other than QUMY Large Aquarium Plants Artificial. Its radiant orange and pink colors glowingly illuminate the whole aquarium when the light is on. Its bottom is weighted which simply means that you only have to set it in and it's not necessary to weight it down with some objects in the aquarium.
What makes this plant a great choice is that it does not require regular pruning and high maintenance just like real plants. And, it does not really look like a cheap plastic; it is capable of establishing a dwelling place for fish that is quite similar with that in the wild. That said, it's something that fish will love. Thus, it's a kind of product that you should not ignore.
Be that as it may, this plant comes with a not-so-affordable price tag so if you have a tight budget, this one is not for you. Also, the fish may possibly get stuck in the leaves. If this happens, your aquarium pet may feel stressed.
Very renowned for being zealously-colored artificial plant
A nice option for brightening the fish tank landscape
Does not require high maintenance and regular pruning
Can create a hub that's identical with a natural fish habitat
Does not look like plastic made
Not so budget-friendly
Fish has the tendency to get stuck in the leaves
Overall, this plant makes a good investment in that it is easy to maintain, can offer radiant colors inside the fish tank and can serve as real aquatic plants that gracefully move and sway in the water. This is a perfect addition that could surprisingly brighten your fish tank landscape. Your fish will love hiding and swimming through the leaves. Its ravishingly bright colors are what make it quite attractive to both humans and fish.
6. MarineLand Bamboo for Aquariums and Terrariums
If you are currently planning to purchase realistic fake aquarium plants that are exquisite as floating plants, then there is no need to waste your hard-earned money elsewhere. MarineLand Bamboo can serve as a wonderful shelter for fish at all levels in an aquarium.
To boot, this plant is leafy and you may rearrange it if you prefer particularly if you do not want it to consume too much of the aquarium. This could actually branch out if you allow it. It is engrossing to know that this comes with soft leaves that fish will definitely love.
Since this comes with soft texture, you will also feel comfortable adding it inside the aquarium. It can provide a cozy hideout for your finned friends and this makes it an even more outstanding adornment to oriental themed type of tanks.
Additionally, because this plant is flowing and comes in long form, your aquarium pets will enjoy roaming around, swimming and getting in and out of it.
Nevertheless, this plant is too bushy and if you do not rearrange it, it may take too much space in your fish tank. It is also important to handle it with care as it may come apart quite easily.
Not difficult and demanding to maintain
Designed with soft plastic bamboo strand
Can build a more unrefined-looking backdrop for terrariums and fish tank
Highly recommended alternative to live aquatic plants
Cost-effective and attractive ornamental plant
May come apart very easily
Too bushy so it can consume much of the fish tank
We can safely assume that this plant makes a cost-effective investment. Packed with several stunning features, it is absolutely a top-drawer choice for fish tank owners who only want what's the best for their aquarium pets. It's safe, functional and a perfect adornment to an aquarium.
7. CNZ Aquarium Fish Tank Green Lifelike
Often times, premium quality plastic aquarium plants are hard to find. But, speaking of quality and functionality, you can count on CNZ Aquarium Fish Tank Green Lifelike. The base of this plant is well-weighted and its roots stick out; hence it makes it appear slightly more authentic.
And, similar with live aquatic plants, this one comes with full and large leaves and its roots are designed as life-like so this makes it capable of offering a wonderful shade close by the base.
This is actually soft for a plastic and may require regular cleaning to ensure that it is free of any bacteria-causing elements that may be fatal for the aquarium inhabitants in the long run.
A few of the weak points of this product are its sharp points that may injure your aquarium occupants and the base of the plant smelled strongly of plastic which can be disturbing. It is a must to clean and wash it thoroughly before putting in the fish tank.
An exquisite plant ornament that looks real
Designed with well-weighted base that makes it stable
Can provide a nice shade neighboring the base
Comes with huge and full leaves
Great investment for the health of your fish
Base smelled strongly of plastic
Comes with some sharp points
Lastly, it is worth noting that this artificial plant is a great investment for the health of your fish. It can make a fascinating décor inside the fish tank, your fish can find a hiding spot on its base, roots and leaves and it does not get loose and easily removed from its place. Unlike other fake aquarium plants out there, this is not a pain in the neck to clean and maintain and you can get it for a reasonable price tag.
8. COMSUN 10 Pack Artificial Aquarium Plants
This brand won't fail you if you opt for unreal aquarium plants that are easy to add and maintain. Although they are unreal, they do not have a negative effect on the water's pH level. Apart from serving as a stunning décor in fish tanks, it could also build a stress-free shelter for your most treasured finned buddies.
Its vibrant color is quite adept at brightening the aquarium's landscapes and this makes your fish tank an even more impressive sight to glance at after a long and tiring day. Essentially, this plant won't introduce any dangerous foreign substances in the aquarium.
You may consider rearranging them to avoid making them appear like too cluttered when added inside the fish tank. Wash it properly to make sure that it is clean enough when placed in the aquarium.
Nonetheless, this artificial plant for fish tank comes with bizarre smell when opened, so it is recommended to soak them in warm water for half an hour to reduce the strong smell. There is also possibility of algae growth if not cleaned and maintained properly.
Smooth sailing to add and maintain in the fish tank
Does not affect the aquarium water and other fish tank-related conditions
Can create a stress-free habitat for the fish
Won't introduce any harmful elements in the fish tank
Radiant color superbly brightens fish tank landscape
Comes with strange smell when opened
There is tendency of algae growth
On a large scale, this artificial aquarium plant has superior quality heavy bases and fabulous structure. It is a great way of adding a number of foreground plants to a fish tank at a decent price. In addition to this, the ceramic bottom blends well with
light river rocks
. And, the best of all, this is ideal for baby fish to hide and rest.
9. Pietypet Artificial Aquatic Plants
This artificial aquatic plant comes with super bright colors that come in distinct sizes that are quite vivid and ravishing when added in the water; therefore, it could successfully beautify your fish tank. It is highly recommended for large-sized aquariums.
Furthermore, the vivid and dynamic colors make the aquarium come alive. Your aquarium dwellers will definitely be fascinated with their newly adorned home. Keep in mind that it is imperative to wash the plants carefully prior to adding it in the aquarium since it may contain strange substances that could put the lives of your fish and other live aquatic plants in danger.
For all that, this plant has the possibility to flake off in the long run, but this isn't a serious issue considering this is a normal occurrence for all types of artificial plants. To prolong its service, it is fundamental to take extra care when handling it. Besides, the base of this plant is a little light in weight so there might be some stability concern. These are just a few of the minor defects that you need to know regarding this brand.
Ideal addition for more than 20 gallon of tank water
Comes in beautiful assortments and different heights
Designed with radiant and bright colors that are impressive
Can guarantee a sophisticated and natural-looking aquarium environment
Made of high quality plastic and ceramic material
Has the tendency to flake off
Base is slightly light in weight
Finally, this artificial plant for fish tank is a great deal to invest in. It works well with larger aquariums and comes with fabulous assortments and various sizes that you can freely select from. Its bright colors are what make it quite stunning that could entertain you, your guests and most especially your favorite finned friends. This is made of superior quality materials that are durable and reliable to use. As a result, it is a wise investment that won't let you down.
Smarlin Aquarium Plants Decoration (Outdated)
Hunting for high quality silk fish tank plants is not always a piece of cake type of venture. By happy chance, you can end up buying the suitable one with significant amount of patience and research. Smarlin Aquarium Plants Decoration is soft and certified non-toxic; as a result, it won't bring any damage to your aquarium residents.
You will be amazed of its varied sizes and the heights of the leaves are capable of offering cozy environment for your betta or other aquarium pets of your choice. Your fish can sleep and rest on this type of fish tank plant. The natural-looking leaves sway beautifully and it seems real and stunning when submerged in water.
Aside from this, it could add vibrant green color in the aquarium and your guests won't even think that it is a merely artificial plant. This comes with heavy base as well and this works outstandingly in assisting the plants remain in place in the fish tank. It does not hover around the aquarium and does not get loose.
Notwithstanding, this item is a little bit costly and the grass at the bottom looks obviously fake since it is made of plastic material.
Does not get loose or hover around the fish tank
Its heavy base makes the plant stay in secured place
Can establish a cozy and comfortable hub for your fish
Capable of creating a resting and sleeping spot for your marine friends
Non-toxic and danger-free for all types of fish
Grass at the bottom seems unreal
A bit pricey
All in all, this artificial but natural-looking plant fits the bill. It looks so authentic and can establish a great habitat for your finned friends. It comes in appropriate height and capable of providing an exceptional aquarium background. The heavy anchor keeps the plants in place and the leaves are solidly attached. It is highly recommended!
CNZ Aquarium Decor Fish Tank Decoration (Outdated)
You can finally end your agony searching for the wrong fake aquarium plants that look real. CNZ Aquarium Decor Fish Tank Decoration can ease your burden and can offer you the best solution for your aquarium plant's needs. This product is non-toxic so that conveys your aquarium dwellers are good in hands.
The good news is that you can now embellish your fish tank using artificial plants without worrying whether this is safe or not. This is not a high maintenance type of plant and it does not look like plastic made once it was added in the water. Its ravishing color makes a pretty addition in your fish tank. At long last, you can have an aquarium adornment that can entertain and make your fish happy and more active.
But, you must know that this plant may sometimes come with a few deformed leaves once purchased and it also has the possibility to alter the color of the fish tank water. To avoid this, it is advised to properly wash it prior to adding it in the aquarium.
Made of non-toxic material that's safe to use for any fish species
Only calls for a minimum maintenance
Can provide very pleasing colors to an aquarium
Artificial but looks like real aquarium plant
Base of the plant is made of high quality ceramic
Can change the color of the water
Comes with a few deformed leaves
In a nutshell, this artificial plant is durable enough to stand upright outside of the water and this evidently makes it appropriate for reptile terrariums as well. Unlike other brands available nowadays, it does not come with chemical odor. The base appears fairly weighted for the plant so it does not float around the water. For the price, this was a pretty good deal.
Smarlin Artificial Aquarium Plants (Outdated)
This plant seems real aquatic plant and comes in feathery appearance. Moreover, it comes in small to medium size. While it is not a real plant, it is not a harmful adornment that can be added inside the aquarium. It is designed with thick leaves that are especially intended to offer a cozy hub for betta fish and other fish species.
Indeed, fish will love it as it could serve as a resting or hiding spot for them. The leaves move beautifully just like real ones so people could hardly tell that it's artificial. Its gorgeous green color adds a very impressive and natural look in the fish tank.
Then again, this artificial plant isn't impeccable. It is too light so it has the tendency to hover around the water. Additionally, it requires thorough cleaning too prior to adding it in the fish tank. This is to ensure that it does not come with strong plastic smell and does not contain any element that may contaminate the aquarium water.
Danger-free to use for all types of fish tanks
Looks natural and moves gracefully just like real aquatic plants
Comes with unique appearance and texture as compared to other brands
Fish love swimming through them
Can provide a stress-relieving sight
Too light
Requires thorough cleaning
To sum things up, this plant comes with a very soft material that fish will love as it does not make them feel uncomfortable and won't injure them in any way. This is highly recommended for fish tank owners who keep delicate type of fish. It makes a lovely décor inside the fish tank, it can function as a safe hiding spot for fish and you can get it at a friendly price tag, so what more can you ask for? Isn't this a great catch?
What To Look For When Buying Silk Aquarium Plants
Plastic and silk plants come in a broad array of colors and sizes so it is advised to measure your fish tank first before you purchase one. Make sure that the height and width of the silk plant won't clutter or consumer too much space in the aquarium.
Luckily, these plants are easy to find and can be obtainable any time of the year. These do not bring in parasites or pests from other places. What makes them a great option over real plants is that they do not foul the aquarium water and they do not easily disintegrate. As a result, they do not pollute the fish tank water. Newbies will find them so practical since they are not difficult to take care of unlike real ones.
Prior to making the final purchase, the only things you need to consider are the color, size and the materials the silk plants are made of. Of course, first and foremost, would be the amount of money you're willing to spend for the product. Once all these are carefully thought of, you won't have any worries!
Other Important Factors To Consider
What is a silk aquarium plant? How does it work?
Silk aquarium plants are ideal alternatives for real aquatic plants. These are typically cost-effective, does not require certain lighting and water conditions, fertilizer and regular trimming unlike real plants.
These are generally made of high quality soft plastic materials that are non-toxic to aquarium inhabitants, whereas the base of the plant is made of ceramic. They are available in different sizes, designs, shapes and colors. You can obtain them all year round and these are not that expensive.
They are not prone to various bacteria buildup; they require thorough washing and soaking before being added to the aquarium to reduce the plastic smell. Meanwhile, other types of silk fish tank plants come in sharp points or edges that needed to be fixed so as to avoid causing wounds and any other sorts of injuries to your finned friends.
Furthermore, they can serve as the best resting or hiding spots for various fish species inside the aquarium. Without question, these are charming adornment to all fish tanks especially when partnered with LED lighting.
Once these are added to the aquarium, they can serve as real plants that sway and move gorgeously provided that they have stable and heavy base to keep them in secured place. Their placement will depend on your preference.
What are the different types of silk aquarium plants?
When selecting artificial aquarium plants, there are two types: those made of plastic and those made of silk. Both of these are ideal options to a planted fish tank as they both require very low maintenance. They could provide life-like adornment while providing practicable habitat and shelter for various fish species.
Additionally, the distinction between plastic and silk plants is that plastic ones do not support natural movement, but these are more sturdy and tough. On the contrary, silk plants can ensure natural movement just like live aquatic plants do.
In the event you are keeping rowdy fish, it is recommended to opt for hearty plastic plants. However, if your fish are not boisterous, then you can go for any options based on your needs and style. Take in mind that a single fish tank could contain both plastic and silk plants if that is your personal choice.
Silk fish tank plants come in a broad array of sizes and the price range depends on the size of the plant. Plants made of silk are specifically designed to be utilized in saltwater and freshwater aquariums.
Also, such plants could be utilized to tuck away air stones and other submersed fish tank equipment. These are commonly supported by a hollow or an unwieldy stone base, or light cup that is packed with substrate or gravel.
Why do you need a silk aquarium plants? (Benefits)
Silk aquarium plants are more preferred by more and more aquarists because unlike live aquatic plants, these are comparably easy to clean and maintain and they generally cost less. Just like real plants, they can be a very alluring addition to any type of fish tank.
There are also a number of advantages why it is better to opt for silk fish tank plants than real ones and some include the following:
They do not necessitate regular or thorough maintenance. There is no need for fertilizer to keep them healthy, they do not consume oxygen and they do not obstruct the filter.
They look real but you do not necessarily have to pay more. These are actually nearly identical with live aquatic plants and at times they may even look more ravishing. They are less pricey too since they do not call for additional equipment to operate the tank unlike real plants.
Silk fish tank plants can be planted almost anywhere you wish precisely because they do not need any substrata ever.
They generally don't pose any danger of carrying snails or other types of parasites. For a fact, artificial plants may be safely utilized in quarantined areas or hospitals.
They do not decay and these are no sweat to clean and maintain. These do not necessitate specific water or lighting conditions.
They can provide fish with resting and hiding spots, they won't be consumed by aquarium inhabitants and there is no need to regularly trim them unlike real plants.
These are great option for fish that are susceptible to consume or uproot live aquatic plants.
Frequently Asked Questions
Silk or Plastic Plants: Which one is better?
Unquestionably, it is always a matter of personal choice. Fish tank silk plants have more perks over plastic plants. The main reason is because plastic types could cause injuries to your aquarium pets in the event that the fish happen to roam or swim right unto them. Fish could get cut or wounds if they rub against a hard plastic material.
It is essential to know that one great way to figure if the plant is harmful is to overlay a pantyhose. Afterward, you may inspect if the pantyhose was torn or frazzled. Once they did, then that means the plant is not safe to be added in the fish tank.
Also, silk plants typically look a lot more attractive than plastic types. The weightless material enables the plant to move gracefully in the water reason why it looks really identical to a live aquatic plant.
Be that as it may, plants made of plastic are difficult to bend and comes in hard texture. So, they could not maneuver well in the water making them appear more artificial. Many aquarium owners do not prefer them because they cannot provide a natural fish tank décor and setting.
What makes silk plants a pretty good choice is that they appear more natural if not observed in close proximity. In other words, they provide the illusion of real plants. Fundamentally, silk and plastic plants could not produce food for the aquarium inhabitants. While fish can munch on them, still they could not get nourishment.
Howbeit, plastic plants could potentially damage the fish if they attempt to nibble the plant. This could be one of the reasons why many aquarists prefer silk ones over plastic ones.
Bear in mind that both silk and plastic plants aren't capable of producing waste or residue that contaminate the fish tank water. There is no need to trim or prune them as they do not grow. Therefore, they require minimal maintenance after the fish tank setup.
How to place artificial aquarium plants to the tank?
Carefully rinse and soak the artificial plant in warm water for a few minutes. This will get rid of the smell and will allow the material to generate a more natural appearance. Afterward, add it to the fish tank and see to it to sink the ceramic base into the gravel.
When embellishing the fish tank, utilize plants that come with various heights so to produce more dimension and depth. You may begin with the tallest plants toward the rear corners and then followed by moderately shorter plants toward the center and front sections.
This will pave way for a more impressive aquarium look. It is a must to look for plants that are particularly made for the type of water in your aquarium.
Then, add the gravel. It is critical to spread it uniformly. It is significant to consider that this plays a vital role in your fish tank aquascape and will be collected and set to shape as you create the display.
While such plants are not live plants, the size of gravel is not substantial, even though, in most instances, finer substrates appear more exquisite.
When it comes to the wood's height, consider breaking up the planting and form a structure wherein some artificial plants will be attached. And, for the background plants, since your silk plants already come with a heavy base, you will only be required to wedge them into the crevices or you may simply rest them on the wood.
When bolstering the gravel or plants, you may put in and mold more gravel in order for them to shape along the rear and edge sections.
Clump the plants together to prevent them from scattering. In so doing, this could create a less cluttered look inside the fish tank.
Can silk aquarium plants turn brown?
The brown color in artificial plants is the accumulated dirt or dust caused by being submerged in water for a long time. As a matter of fact, this is a normal or frequent occurrence for those who do not regularly clean and maintain their aquarium.
Silk or plastic plants can also gather dirt and this may build up in their body which may possibly turns to brownish color. Since they are not live plants, such occurrence does not mean that they are decaying unlike real aquatic plants.
To avoid the accumulation of brownish color in your silk plants, make it a habit to clean them regularly so that they remain beautiful and fresh-looking in color and appearance.
How to wash & clean?
  Carefully wash silk plants using warm water and then rinse it with running water to get rid of excess algae.
  In a bowl, pour roughly a half cup of rock salt. Then, put adequate amount of lemon juice to create a paste. This solution is harmless to fish tank dwellers.
  Scrub the plants using an old toothbrush with lemon and salt paste that you made. This is good at eliminating dirt and bacteria.
  Thoroughly wash the silk plants in warm water and then rinse again in running water this time. Dry them and you may put them back in the aquarium.
  In case algae buildup is rapidly rising, you may put new plecostomus in your fish tank.
Where to buy?
Silk plants may be found in local fish or pet stores in your current place or sometimes you may purchase them in home improvement centers. On the other hand, if you prefer shopping online, you may also buy them in Petstore, Petsmart, Petco, Lowes, eBay, Amazon and many other credible online shopping sites out there.
Surely, there are so many options for you to select from according to your present needs and style.
Conclusion
Without exception, you may be overly worried about all the struggles that come with adding live aquatic plants in your fish tank since these are very demanding and could be tedious to take care of. This is the sole reason why more and more aquarium keepers prefer the best silk aquarium plants over other options.
If you need some ideas about the different and highly trusted silk plant brands and manufacturers, and you need to learn more about the right option that could cater to the needs of your fish and aquarium, then the comprehensive product reviews aforesaid can help you end up buying the perfect product for you.