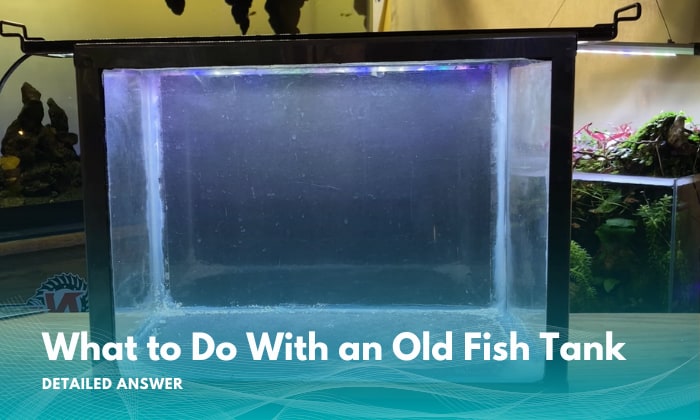 You have a magical fish tank but it's time to upgrade to a bigger one, what are you gonna do with the old aquarium? Don't rush to throw it into the landfill. Even if the old tank is no longer needed for your school of fish, it can be recycled for other purposes.
What to do with an old fish tank? Depending on the size, the old aquarium can be repurposed for a small stunning lightbox or a new herb garden.
Let's keep reading to find out more ideas for old fish tanks!
Things to Do With an Old Fish Tank
If you are looking for other uses for fish tanks, there are plenty of cool things to do with aquariums.
1. Terrarium
With an empty 10 gallon aquarium, you can add decorations and plants to create an artistic terrarium. A terrarium is like a small collection of plants, typically grown in a glass container.
Turning an old aquarium into a terrarium is one of the best ideas for an empty fish tank that brings some style to your home.
A 10-gallon tank is enough for a variety of plants, the most common ones are succulents. For the best growth of plants, you need to use different mediums to create a drainage layer in the tank. These may include drainage material, activated charcoal, coco coir base, soil, rocks…
After all, here are some basic steps to create a terrarium from an old fish tank.
Clean your aquarium
Make a layer of pebbles or gravel at the tank bottom (you can take advantage of old fish tank gravel)
You may want to add a layer of sphagnum moss on top (this step is optional).
Add a thin layer of activated charcoal upper to help filter the water and prevent the growth of bacteria
The next step is to add potting soil and moisten all layers with a good watering.
Add any decorative items like driftwood or stones.
The last step is to add the plants.
2. Herb Garden
If you are looking for creative ideas for old fish tank, why don't you turn a fish tank into a garden. Growing a herb garden can be similar to a terrarium, you also need to follow all the same above steps. But instead of growing succulents, you should add some colorful herbs and plants.
Make sure that all kinds of plants have the same growing conditions. You can not have a dry-condition herb in the same tank as a moisture-loving plant.
Indoor herb gardens always need to receive constant care to thrive. Keep a small spray bottle to mist the soil directly rather than the leaves.
And remember to put it near the large window, not in a direct way, to absorb sunlight. They may need sunlight for at least six hours each day.
3. Aquaponics
Turning an empty aquarium into a home aquaponic is one of the unusual alternative uses for fish tanks which brings practical benefits.
City apartments completely make it difficult for many people to have an in-ground vegetable garden. So, making use of a recycled fish tank for a new aquaponic helps you have nutritional fresh vegetables with space and less laboriousness.
In addition, you can grow greens easily without the frequency of water changes as the plants are doing all this work.
Before growing vegetables with aquaponics, you need to clean the old aquarium thoroughly with bleach. Remember to clean it again with water, you never want any chemicals left over and interfere with the plant growth.
4. Table Centre Piece
Turning an old aquarium into a table centerpiece is one of the best old fish tank ideas ever for those of you who have a creative mind.
To create a table centerpiece, it's best to have a small round-shaped tank. You can decorate an empty fish tank just the way you like. But before decorating your little aquarium, you need to clean it thoroughly.
Here are some good centerpiece ideas for fish tank you can take for reference!
First, you need to have some different size candles and place them inside the aquarium. You can put all the candles in the order that you want, but it is recommended to set the short ones in front of the taller ones.
After this, you can decorate a thin layer of mini pebbles on the tank bottom and around the candles.
Depending on the present or upcoming holiday, you can have some more accessories to make it more attractive. For Christmas, you should decorate your centerpiece with some tinsel or berries.
What more? You can make a seashell centerpiece from some mixed beach seashells. Set all the seashells inside the tank with pebbles. It's easy but turns out to be a beautiful centerpiece.
5. Mosaic lamp
What other uses for aquarium other than fish? If you have a small round shaped tank, then make your kids a Mosaic lamp in the bedroom.
First of all, you need to prepare these tools below:
Some favorite colored glass paints
A black paint pen for glass
Paint brushes
Sketch the design for your lamp on paper. After that, you can press the paper inside the tank as a template and redraw the main lines.
Wait until the draw has dried, then paint them with different colors. After the paint is dry, you can place a fairy light inside it.
Frequently Asked Questions
What do you do with a fish tank you don't want anymore?
Here are some ways that you can do with an unwanted fish tank:
Repurpose a fish tank: If your small aquarium can not keep your fish anymore, then you can search for an aquarium without fish ideas. Turning an old one into a herb garden is not a bad idea.
Ask a local fish shop: Visit a fish shop near you and ask if they want to collect or buy old fish tanks or not. Let's start with the one you buy that aquarium.
Donate old fish tank to another aquarium hobbyist: It's a good idea to visit Reddit or any social media communities and ask if any fish keepers want an old fish tank. However, you need to make sure your aquarium is still good to keep some fish.
How do I get rid of a large fish tank?
Depending on the status of the aquarium, there are 2 main ways to help you get rid of a large fish tank.
In case the aquarium is still in use (it is in no cracks, you just bought a new one and don't want to keep the old one anymore), you can give it to someone else who also loves keeping fish or reuse it for another purpose like making a home aquaponics.
On the other hand, if your fish tank is completely broken (into pieces) and can not be used anymore, let's smash it into smaller pieces and throw it in the garbage. However, you need to check your garbage service's rules and restrictions before doing this.
Conclusion
What to do with an old fish tank? There are many ways to recreate and repurpose an unwanted fish tank, just don't rush to throw it away.
No matter whether you want to create aquaponics or make a centerpiece, recycling an old aquarium can help reduce waste to the environment and help you have more interesting and useful things in your house.
Hopefully, this article is useful, do you come up with any other cool ideas, let's show us!