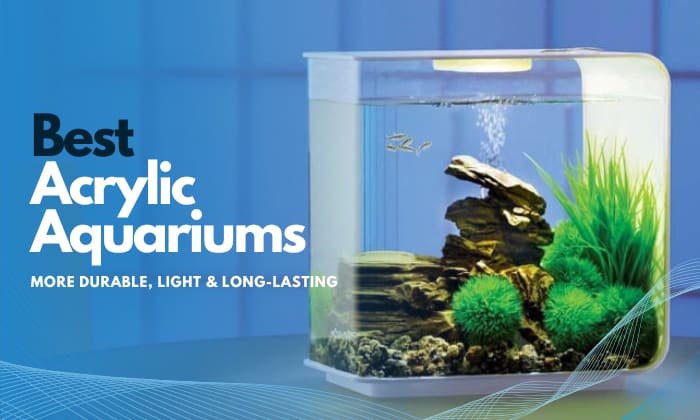 Many people commonly think that aquariums are generally huge, heavy and not a piece of cake to take care of and maintain. And, oftentimes, with numerous options available these days, it becomes more challenging what to get for yourself especially when you are not that insightful of the nature of fish keeping yet. What about the best acrylic aquariums? What are the most important features to search for if you're going to invest in this type of fish tank?
As always, prior to the final purchasing decision, it is advantageous to educate yourself first regarding the options out there that would suit your needs and preference top-tier since being offered countless options to select from is not a joke when you do not have any idea. Worry no more and continue reading the rest of this article.
Acrylic aquariums are sought-after items due to their low average price. But there's a significant quality variation among these cheap tanks. Therefore, knowing all the vital factors is paramount when choosing one. So here's a quick overview of some essential considerations for this buying process:
Size: Acrylic aquariums are available in numerous sizes, ranging from 1-gallon tanks to 50-gallon tanks. So, buyers must plan out what size best suits their setup to ensure they choose a suitable option. I'd suggest buying the largest tank you can, so your fish gets as much swimming room as possible.
Design: You'll come across an extensive variety of acrylic aquarium designs. Generally, it's best to have a wider acrylic cube aquarium and stay away from tall, slim options. These longer aquariums provide more space for decorations, plus less arm reach is needed to clean the tank.
Does it Need a Stand?: If your acrylic aquarium is over 15 gallons, most experts recommend putting it on a stand for extra support. Any tank under the 15-gallon mark should be fine on a sturdy desk or table. Nobody wants to see an acrylic aquarium tanked or broken because the surface underneath cannot hold it.
If you are really eager to get the most suitable acrylic aquarium for you, it is essential to pore over the point-by-point product reviews below and also check out the various features and factors that you need to ensure when buying one for you. This way, you can stop wondering where to get started in your fish-keeping venture. Needless to say, having the right fish tank for you matters the most after all.
Best Overall
Tetra Crescent Acrylic Aquarium
✅ Ideal choice for smaller fish
✅ Energy-efficient LED lighting system
✅ Exploits ultra-activated carbon
Premium Choice
GloFish Aquarium Kit
✅ Top quality acrylic material
✅ 15 blue-colored LED bulbs
✅ Very lucid cover
Editor's Choice
SeaClear Acrylic Aquarium Combo
✅ Comes with reflector, acrylic tank
✅ Ensure a clear view of the entire fish tank
✅ Chipping and is impact-proof
Top-Rated Acrylic Fish Tank Reviews of 2023
1. Tetra Crescent Acrylic Aquarium Kit
This Tetra crescent acrylic aquarium kit is cost-effective considering it comes with amazing features yet the price tag won't break the bank. It is a perfect little fish tank that could be the to-rated pick for anyone who is planning to keep smaller fish species. Even though it is considered small in size, it could still offer enough room for the fish to move around.
It is furnished with an awesome LED lighting system that could impressively radiate the entire fish tank and give you a clearer and more nice-to-behold view. Mechanical filtration works by pulling the water from the fish tank and then pushing it by means of the filtration cartridge where the dual-sided and thick mesh traps dirt and other residues.
Be that as it may, a few of the glitches that you may encounter if you pick this acrylic tank are its filter's incapability to offer any biological filtration and once purchased it does not include a thermometer or a heater which means you'll have other things to look for so that's an additional cost on your side.
Ensures nice visibility with the curved edges
Equipped with an energy-efficient LED lighting system
Exploits ultra-activated carbon to allow eradication of discoloration and foul odors
Looks fascinating and no trouble to maintain
Ideal choice if you're keeping smaller fish
Does not come with a thermometer or a heater
Tank's filter does not offer any biological filtration
As a whole, this acrylic tank would absolutely look great on a desk. Looking at it closely, the crescent front seems subtle yet it enables more excellent viewing as compared to a cube aquarium. In addition to this, the lighting system sets off the colors of all fish tank dwellers in a more aesthetic manner. For the price, this is unbeatable because it is less costly yet is packed with outstanding features.
2. GloFish Aquarium Kit Fish Tank
This 5-gallon acrylic tank is priced affordably so it is budget-friendly for everyone who wishes to invest in a good quality fish tank built with acrylic materials. This is highly recognized for its serviceable 3-phase filtration system and once purchased it already contains a single LED hood, 15 blue-colored LED bulbs and best of all its curved form appeals to sensitive aesthetics.
While it is true that this filter is mainly built for five-gallon aquarium size, its filtration system is awesome. It is capable of efficiently eradicating any particulates or wastes, hazardous chemicals and other undesired organisms to keep the tank water free of odor and all sorts of contaminants. Beginners will surely like this product because fish keeping does not need to be quite tedious and demanding for them to deal with.
Howbeit, this acrylic tank features an intake tube that seems to be not long enough so it could not be extended far enough into the water to allow a great job. Apart from this, the plants begin to look unpleasant after two weeks. You need to carefully mull over these matters before deciding.
Equipped with a total of 15 blue-colored LED bulbs
Comes with medium Bio bag as well as a microfilter
Built using top quality acrylic material
Designed with very lucid cover
Equipped with transparent plastic canopy
Plants begin to get a little flaky after 15 days
Intake tube does not extend at a greater distance
By and large, if you are seeking a premium quality fish tank kit that would conceal the reality that you are completely a novice in fish keeping hobby, then the most recommendable option for your newfound hobby is this aquarium kit that comes with impressive LED lighting system. It comes complete so getting started won't be a sheer struggle for you.
3. SeaClear Acrylic Aquarium Combo Set
This SeaClear acrylic aquarium combo set is a superb value for the price. Once you set your eyes on this acrylic tank, you will agree with the fact that it is built to be super strong and its material appears to be of top quality. This is not prone to bowing out even when filled with water and other tank equipment, decors and fish tank occupants. Setting it up is also a breeze to handle even for those who are not that well-experienced in aquarium keeping.
Basically, this is very transparent, quite sturdy and appears to be merely half the weight. It is adept at providing a more stunning view of the entire tank. Whether you plan to keep a marine or freshwater tank, this can be your right match. Once bought, it already includes the 15-inch electrical light fixture, reflector as well as acrylic fish tank.
On the other hand, a couple of weak points to be insightful of when choosing this product are its poorly-made and easy-to-break black hood and the main opening is not large enough; this certainly needs some upgrade.
Comes with reflector, acrylic tank and 15" electrical light fixture
Can ensure a clear view of the entire fish tank
A safe option if there are kids and pets around
Not susceptible to cracking, chipping and is impact-proof
Safe to be utilized for both saltwater and freshwater applications
Comes with cheaply-built and fragile black hood
Would have been better if the main opening was larger
All in all, this acrylic tank does not your average aquarium. It looks great, leak-resistant and not bulky at all. Cleaning it is not a hassle and it can surprisingly hold temperatures a lot better as compared to other brands. It is capable of allowing all the visual weight to originate from the fish tank dwellers and not from the unsightly sections of a tank. This is a great option if you have pets or kids living with you.
4. biOrb Flow 30 Aquarium with LED
This acrylic fish tank is known for being ten times stronger than other glass tank brands; it weighs half the weight and comes with a roughly 93% of clarity rating. While it is a little overpriced, this is reliable and a wise choice in that it can offer five-phase filtration that consists of water stabilization, chemical, biological, mechanical and oxygenation.
What is more, if you prefer an acrylic tank that can be put together in a snap and does not seriously require high maintenance, then this is the suitable bet for your needs and preference. It comes with a modern and sleek design and the first glance of it could definitely create a lasting impression on people's thoughts. It can fight off the water pressure from the inside as well.
Nonetheless, you need to save more money if you really want to buy this acrylic aquarium since it is a little overpriced and aside from this, it would also cost a little more once the filter cartridge needs to be replaced.
Operate with low voltage at 12V transformer
Filter cartridge is built to accommodate all biOrb fish tanks
Harmless for kids and pets
Premium quality LED lighting system made to fit fish tanks smoothly
Available in two sizes
Not ideal if you are short in your budget
Replacing filter cartridge is pricey
Overall, this acrylic tank is the real deal since it is specifically manufactured using incredibly strong acrylic material that makes it more prominent among other options. Even if you have kids or pets in your place, this could be a safe investment that you won't ever regret. Its 8 gallon size is small yet spacious enough for your aquarium dwellers to thrive. This can provide 5-phase filtration and is equipped with a gilt-edge lighting system that makes the fish tank look even more captivating.
5. Tetra GloFish 3 Gallon Aquarium Kit
This acrylic aquarium kit comes with an admirable design since it is worth displaying and appears contemporary and sleek. It looks tough and durable and for sure you'll love its shock-proof feature too.
The LED lighting system of this acrylic tank is capable of exuding a distinct form of beauty specifically at night when you turn on the LEDs. It is good to note that the light quality is surely pleasing to the eyes and it comes with sufficient intensity that aids in keeping the inside section of the aquarium properly radiating when needed. The light intensity does not warm the water so this makes it a great pick for those keeping a betta.
For all that, this acrylic tank seems to be very sensitive when it comes to being scratched and it could be hard to tell if the plastic material it is made of is safe for fish or free of BPA. These are a couple of the shortcomings that come with this aquarium.
Highly recommended for betta, goldfish or tropical fish keepers
Works adeptly at providing ideal haven for tiny tropical fish
Features first-rate LED lighting system
Lid comes with a large enough hole for easy feeding
Filter operates to keep tank water free of any pollutants
Quite sensitive to getting scratched
Unsure if the plastic material it is made of is BPA free
To conclude, this aquarium kit is a top-drawer product. It can ensure enough room for your pet fish to thrive and enjoy its new hub. It features serviceable and energy-efficient LED lighting that works superbly at radiating all the things inside the fish tank. Also, it is built with a dependable filter that aids in keeping the tank water dirt-free and safe for your aquarium dwellers. Hence, if you wish to provide the most excellent space for your aquatic pets, then this makes a good choice.
6. Sweetsea Creative Acrylic Fish Tank
This very small acrylic aquarium is a child's play to assemble, look after and maintain. Since it is wall-mounted, it is ideal for those with limited space at home or in the workplace. This is a safe option to consider too if you have playful children around.
Whether you are an amateur or already an expert in fish keeping hobby, this product won't be a burden to take care of and maintain. In truth, it is much better than advertised. It comes with a generous amount of space for your pet fish to live comfortably and you can also easily organize other items that you wish to add inside the tank. It hangs nicely so it serves as a very lovely home or office decor too.
Still, there are a few drawbacks to check out if you plan to purchase this acrylic tank and these consist of its very small size that makes it impossible to shelter more than one fish species and it may necessitate frequent cleaning if you hope to sustain its transparency.
Super transparent, sturdy and bright acrylic
Comes with wall-mounted design that could save significant amount of space
A perfect gift and very unique home adornment
Great for goldfish, live aquatic plants and betta fish keeping
Can easily hang without much trouble
May call for frequent cleaning to sustain its clarity
Too small to shelter more than one fish
In brief, this tiny acrylic tank comes with an elegant wall-mounted design that is especially meant to help save more space wherever you decide to put it. It is built with A1 quality acrylic material that looks bright and very solid. If compared with glass tanks, the acrylic material looks more durable and tough as it is less prone to shattering or cracking in an instant. This is pretty safe to have even if you have naughty kids around.
7. biOrb Tube Black Aquarium
If you opt for an acrylic tank that is way more solid than glass, is not bulky and can provide 93% clarity, then this is the perfect companion that you can always count on. Its 5-stage filtration system includes oxygenation, biological, chemical and mechanical filtration as well as water stabilization.
Since this is ten times stronger as compared to glass tanks, it could ensure long-standing performance making it a cost-effective investment that won't leave you feeling regretful. This would make a very adorable addition at home or in the office.
A few of the lapses that you would notice if you observe this acrylic tank are the unsightly visible lines on it which is slightly disappointing since it is expensive yet it comes with flaws like that and looking for a stand for this tank is not fun at all as it could be difficult to find.
Can ensure very clear and lucid view of the entire tank
Built using top-quality acrylic material
Lighter and ten times stronger than glass tanks
Performs 5-phase filtration
Helps make fish keeping hobby more exciting
Comes with some visible unpleasant lines
Buying a stand for it is slightly difficult to find
In a nutshell, this acrylic tank is manufactured by a highly acclaimed acrylic aquarium manufacturer and is perceived to be such a great catch even though it could create a hole in your pocket. It helps make fish-keeping hobbies more enjoyable and not tough to access at all. This comes with a captivating design, and helps calm you down, particularly when you're overly stressed, it does not call for high maintenance and can ensure a healthy haven for your pet fish and live plants. With its efficient five-phase filtration system, you can guarantee that the entire tank will be safe for all your aquarium occupants.
What to Look for When Buying an Acrylic Aquarium
Prior to purchasing a new acrylic tank, it is paramount to set eyes on the indispensable features and functions that could help make your fish-keeping hobby a success not only for you but could also be advantageous to all your fish tank occupants. While it is true that there are diverse options for you to encounter, if you do not conduct research, you're more likely to end up committing impulsive shopping. It is beneficial to shop when you are knowledgeable about what you're exactly looking for.
Here are some of the things that you need to reckon with before paying for the final selling cost:
It is fundamental to think through the needs of your fish tank dwellers, the kind of care and maintenance your aquarium will necessitate and the location where it will be placed.
What is the right size to get? Take note that the size of the aquarium indicates the number of fish that may be comfortably and safely sheltered in it. In general, it is highly suggested to opt for larger tanks because you also need to consider about the size of the fish, plants and other decors you'll add to it.
Plus, fish grow so it is a must to ensure that they have enough space to play, stroll and swim around. This also concerns the space you have in your current place or workplace where the aquarium will be kept.
What is the ideal shape? Bear in mind that the aquarium's shape greatly affects the number of fish it will keep. Much of the oxygen infiltrates the water through the surface; thus, bigger surface areas lead to more oxygen infiltrating the water. As much as possible, do not go for tall slim tanks and get the longer options. The additional length would also provide the fish more space to move around as compared in a tall fish tank.
Would it be cost-effective to pick some acrylic tanks that come with combination packages? Plenty of fish tanks are now packaged with heaters, lights and filters. Some combo options are ideal picks and are considered very economical. Of course, you've got to check if these are good bargains. Prior to picking one, carefully think of your needs and from there try pricing the items separately.
Do you need to buy a stand? Not to mention, aquariums are bulky once they are filled with water and all the other items that are essential to get started. Prior to getting one, think of the most suitable location where you will place it. Generally speaking, tanks that contain 15 gallons and below can be safely placed in durable desks or study tables; however, larger ones that contain beyond 15 gallons would already especially require a stand. You can pick from different materials and colors when buying a stand.
Other Important Factors to Consider
What is an acrylic fish tank? How does it work?
Acrylic aquariums are specifically built to be capable of withstanding impact; they are no sweat to drill for plumbing, are not heavy, can be customized in numerous designs, can be cut and welded together without much struggle, the seams are chemically-bonded together and unlike glass tanks shipping charge is not that expensive.
While it is true that acrylic tanks come in many perks once owned, a few of their downsides include their more costly price tag, it is prone to scratch luckily this can be fixed instantly and you can expect more distortion, unlike low-iron glass tanks.
Essentially, acrylic tanks are preferred because of their workability. These are intended for those who are into DIY projects and prefer a fish tank that is quite easy to modify or customize.
You can instantly drill holes in acrylic tanks in order to create a way for your overflows, pump outlets and other creative things that you can imagine. For more usage and operation information of acrylic aquariums, you can refer to the manufacturer's recommendations on how to make it operate as expected.
What are the different types of acrylic aquariums?
Acrylic tanks do not merely pertain to one form of material, as a matter of fact, there is a wide array of acrylic material types and these include the common type of acrylic known as polyacrylate.
More than that, acrylic can be manufactured from two fundamental categories of molecules that consist of polymethyl methacrylate and methyl methacrylate.
Please be guided that Perspex, Plexiglas, Crystallite and Lucite are the brand names of the types of polymethyl methacrylate acrylic.
Substantially, various types of acrylic tanks differ in size, shape and price range. These are all easy to modify, lightweight, impact-proof, 17 times stronger as compared to glass tanks and are designed to last for a longer period of time so long as they are handled with proper care and maintenance.
Why do you need an acrylic fish tank? (Benefits)
For one thing, acrylic tanks are commonly the preferred option over glass aquariums precisely because the list of benefits they could provide is limitless. More and more beginners and experts in aquarium keeping invest in them because they are a lot easier to take care of and maintain.
Here are some of the perks of owning acrylic fish tanks:
Acrylic aquariums are lightweight making them plain sailing to lift when not filled with water and you won't have much trouble transporting or moving them from one place to another. This is especially advantageous if you do not have anyone to assist you as you locate your aquarium.
These are very clear and transparent just like glass tanks. In reality, the colors of the fish and aquatic plants living inside the tank can be clearly observed. You can enjoy a very clear view of the aquarium so you can fully enjoy it. However, the clarity will depend on the brand and grade utilized by the manufacturer and the clearer it is, the more expensive it is. Even so, the satisfaction is priceless.
Acrylic tanks are more durable and are actually renowned for their incredible strength. This means that if you have other pets or kids at home, there is no need to worry about the aquarium getting cracked or bumped unlike if you own a glass tank.
Basically, this is what makes them the ideal option if your location is prone to earthquakes. They are the perfect pick for those who do not wish to deal with easily shattered glass tanks. By and large, they do not often cause injuries, unlike easily damaged glass tanks.
Since acrylic tanks are seamless, they could leave you worry-free since they are not susceptible to leak issues as they are designed with the leak-resistant feature.
They are specifically built with amazing strength; as a result, they are not prone to getting easily damaged. Unlike glass tanks, they are not that fragile to handle. So, shipping them is not a major issue as well.
These are particularly built to ensure a wider view of the entire aquarium. They make a fascinating addition at home or in the workplace. Even if you have a very long and stressful day, they could help you relax by providing wonderful scenery for you to behold.
As for the price, they come in different selling costs. There are those that are affordable and those that come with expensive price tags. Whatever the price may be, there are those that could meet every customer's budget.
Frequently Asked Questions
How long do acrylic aquariums last?
Acrylic aquariums have a lousy reputation for being less reliable than glass ones. In particular, glass aquariums are known for lasting multiple decades without issue. But it doesn't mean an acrylic plastic fish tank can't last long. For instance, a well-maintained acrylic aquarium can survive 10 to 15 years without problems.
It's not too shabby for what most people view as the less classy fish tanks. Thus, it's easy to see why people consider them a convenient discount choice, especially compared to custom options or learning how to make an acrylic fish tank.
Do acrylic tanks turn yellow?
One of the main disadvantages of acrylic aquariums is they're sensitive to UV rays. So overexposure to these rays, also known as the sun, will turn them a nasty yellow color. It'll also do significant damage to its overall durability.
As a result, I'd suggest setting your tank up away from direct sunlight. It'll help protect the tank against any UV-related damage and extend its longevity considerably. Otherwise, it'll end up being another used acrylic aquarium for sale at the nearby flea market.
Clear for life vs Seaclear: which is better?
Numerous high-quality brands make acrylic aquariums, including Aqueon, Truvue Aquarium, Tetra, and BiOrb. But many people swear by Clear for Life and SeaClear over all these other top brands.
But is SeaClear or Clear for Life better? It depends on what you're looking for in an aquarium, as both have their benefits and disadvantages. For instance, Clear for Life tanks is known for their excellent visibility and thick construction.
Buyers who go with Clear for Life will get a long-term solution to their aquarium needs. Plus, these products have a reputation for being effortless to clean. So anyone who wants a stylish, reliable aquarium will love this brand.
But I must warn you that these options are among the most expensive. You'll need to set aside a large sum to get one in your home.
Meanwhile, SeaClear has a reputation for building convenient and inexpensive choices. These models are available in various sizes and designs to heighten their user-friendliness. It's one of the better brands for newbies or bargain-buying aquarium hobbyists.
The only downside is that SeaClear tanks aren't overly stylish or advanced. In other words, it's more of a barebones option that keeps everything simple.
How heavy is a 30-gallon acrylic aquarium?
A 30-gallon acrylic reef tank will be more weight than most people can handle. In fact, these aquariums can reach up to 250 pounds with everything inside them. This issue is why many owners empty these aquariums before moving them.
On a similar note, this excessive weight also makes the need for a stand more paramount. It's the only way to provide enough support for a 30-gallon acrylic fish tank with a built-in filter, water, rocks, and other decor items.
What are the most trusted acrylic fish tank brands?
First and foremost, when shopping for the best acrylic aquarium, the manufacturer plays a very vital role. Of course, if you want your acrylic tank to last longer and operate superbly, it should be made by one of the globe's most trusted brands. At times, searching for acrylic fish tanks could be daunting especially if you aren't much aware of the credible manufacturers that you should count on.
So, if you are currently wondering what reliable and reputable acrylic fish tank to invest in, then you may consider the following brands:
SeaClear
Tetra
biOrb
Koller Products
Acrylic vs. Glass Fish Tank: What is the difference?
There are a lot of consumers who choose acrylic aquariums over glass tanks because as compared to glass tanks, acrylic tanks are resistant to cracks, not heavy, are capable of providing broader views made possible by its curved front corners and it is a lot easier to cut holes into them so as to accommodate plumbing.
Aside from all that, acrylic tanks are available in a number of engrossing molded shapes and are adept at providing insulation. So, this is quite important if you are planning to keep a tropical fish. Acrylic aquariums are capable of retaining heat 20% a lot more excellent as compared to glass aquariums which imply that your fish tank heater might not have to operate so hard in the acrylic aquarium as it would in a glass aquarium of the same size.
Many manufacturers have revealed that acrylic tanks are 17 times more durable than standard glass aquariums. They can withstand accidental drops and knocks and they are smooth sailing to customize particularly if you prefer to build your own sump systems. That said, you need not worry about getting cuts, wounds and injuries since they are not as fragile as glass tanks. Also, if you have kids or pets around, the aquarium remains safe and stable even when kids accidentally bumped into it.
As for the shapes, acrylic tanks are not limited in terms of shapes, besides rectangular forms; they also come in round spheres, bullets, pentagons, columns, hexagons and the like. Others are designed with a bowed front that offers a fascinating view of the aquarium from the front. Whereas glass tanks are available in various sizes but when it comes to shapes, they can only offer limited choices.
How to set up?
Here are some of the practical steps on how to set up your acrylic tank:
Position the bottom piece on a balanced and durable spot. It is crucial to work on an even and flat surface that could provide the much needed support for the tank and to help keep it level for several hours.
Note that the tank will require to be kept on a stand in order to impede the underneath section of the aquarium from bending under the water's weight.
Fasten the rear piece to the tank's underneath's section; make sure to put tiny pins between them. Consider utilizing clamp or tape to fasten the pieces together. It is fundamental to put a number of pins between the pieces so you could possibly leave a minimal amount of space between them.
Utilize acrylic cement to securely fasten the rear piece of acrylic to the bottom piece. Pull out the pins from between the joints as you apply the cement. Allow the cement to dry for roughly 4 hours prior to continuing the next phase.
Do this procedure again for the front as well as side pieces of the acrylic. Always allow four hours prior to cementing each separate piece of acrylic on order to obtain the most excellent outcome. Once this process is done, the fundamental framework of your tank will be accomplished.
Then, it is high time to examine your fish tank for structural integrity. See to it to ensure that there are no left gaps in the tank that might potentially cause leaks or could cause damage or breakage of the tank. Patiently wait for 48 hours for the tank to cure prior to testing it.
Prepare the tank. Clean the aquarium prior to adding some fish, live plants and other decors. The location where you're going to put the tank should be away from direct sunlight or other sources of heat.
Afterward, carefully add the substrate and water.
Install all the rest of the equipment. Take in mind that when the aquarium is full, it is a must to add a de-chlorinator to the water. Be sure to adhere to the manufacturer's instructions found on the bottle.
Put in all other decors that you want to add in such as various plants and adornments.
Lastly, add your fish. Be reminded that you must execute the process gradually when moving the fish from one tank to another. This way, the fish can adapt to its new environment.
How to care & clean?
If you want your acrylic tank to sustain its exquisite appearance, perform at its best and become longer-lasting, proper care and maintenance should always be your utmost priority.
Here are some helpful methods on how to take proper care and maintenance for acrylic tanks:
Avoid using cleaning agents that come with alcohol, ammonia and abrasive components. It is also not advised to use coarse pads or sponges as this could scratch the acrylic material easily. Utilize a soft fabric with a polish that is specially designed for acrylic.
In order to get rid of algae, use soft cotton fabric on the inside of an acrylic aquarium. Make it a point not to let the gravel or sand come between the cloth and acrylic while tidying it up. You can look for pads and sponges that are specifically made for cleaning acrylic aquariums.
You can utilize a plastic card to remove the algae from the edges of the acrylic carefully. But, before you do so, carefully move aside any rock, gravel or sand nearby the acrylic's sides. There are soft plastic scrapers that are sold on the market today and these are meant for cleaning fish tanks.
Alternatively, sand or gravel vacuums are ideal for cleaning the underneath section of any aquarium. You need to use this carefully though so as not to bump the edges of the acrylic aquarium.
To take care of scratches, you can buy an acrylic scratch-removal kit. This product does a good job of polishing the scratches right away. Additionally, there are specially designed kits that can be utilized safely underwater without the need to pull out any of your fish tank inhabitants.
What is the warranty?
Different warranties support all the acrylic aquariums reviewed in this article to ensure that every customer is protected with their investment. You may look into the kind of warranty your selected item is backed up by through reading the product description. Or, if you would like to have more detailed information about the product's warranty, you can learn more by contacting the manufacturer.
About the warranty, you can ask about how long the warranty last, what components and repair issues are covered, what the manufacturer will do if the aquarium fails, what limitations or conditions are on the warranty and if the warranty covers any sort of consequential damages.
Where to buy?
Acrylic aquariums are readily available in many specialty fish or pet stores worldwide. These are not difficult to find and generally come in a wide range of options. When looking for one in your current location, go for well-stocked fish or pet stores to guarantee more options to pick from. This is principal because other local small specialty fish or pet stores could only offer you limited selections to check out.
Anyhow, if you prefer to be provided with a myriad of acrylic aquarium options to look into, you may start looking for them online. And, one of the most credible online shopping sites that you can rely on is Amazon. Here, various reputable brands are found and there are lots of high-end products to choose from.
Conclusion
In essence, while looking for the best acrylic aquarium for sale could be intricate locally, shopping online has made the search a not so challenging task to handle these days. With the products completely tackled above, you can see that there are a number of options worth buying since these are well-built, functional and possess many of the important features that a reliable and top-quality acrylic fish tank must have.
It is nice to know that even if you are still a novice in fish keeping world, with useful product reviews and shopping guides provided in this post, you can be armed with substantial information that you need to have a deeper grasp of so that you can buy the one that would meet your requirements and preference most suitable.
As you already know, it would be inconceivable to succeed in your fish keeping venture if you will rush to get the aquarium for you without much thought of the most important features and functions that it must possess. So, if it is your wish to give your fish tank inhabitants a safe and comfortable place to live in, then see to it to pick wisely.