You can't question the fact that setting up a new fish tank can be laborious and time-consuming at the same time. And, this is especially true when you need to select all of your own equipment. Hence, to make the process a less hassle task to deal with, investing in the best all in one aquarium can be the right solution to avoid all these.
Indeed, if you are planning to start a new aquarium, there are lots of factors to take in mind. Essential considerations such as the kind of equipment you will use, the size of the tank that you will be getting, heaters, lighting system, filters and the like are just some of the important aspects that must be taken seriously.
Buying an all-in-one aquarium starter kit is an excellent idea for newbies. However, selecting one still requires some research into several factors. So here's a small overview to offer an idea of what you should consider during this process:
Cost: Price makes a massive difference in every buying decision. You'll need to budget out how much you're willing to pay, plus account for any preferred features. Once you do, the entire process becomes much more manageable.
Placement: Planning out where to place an AIO aquarium is something buyers should do before spending any money. Otherwise, it may turn out there needs to be more space for its design, as many people underestimate the size of these tanks.
Type of Fish: Choosing the perfect freshwater or saltwater all-in-one aquarium does require accounting for your fish's particular needs. So buyers must know what environments their pets thrive in and cultivate a tank to match it.
Basically, obtaining the right answers to these queries can be tough and perplexing particularly if it is your first time to set up a new aquarium. The good news is that you can learn more about different all in one aquariums in this article. With the shopping guides discussed here as well as the product reviews exhaustively examined in this post, you can make your final decision a not so struggling task for you to handle.
Best Overall
Fluval SEA EVO XII Aquarium
✅ Powerful 3-phase filtration
✅ Superb night illumination
✅ Ultra-modern look and function
Premium Choice
Hygger Horizon Aquarium
✅ Distinctive convex arc curve shape
✅ 110GPH internal power filter pump
✅ Easy to setup
Editor's Choice
Coralife LED Biocube Aquarium
✅ Smooth and contemporary hood
✅ Consolidated 24-hour timer
✅ Built-in filtration can be customized
Most Trusted AIO Aquarium Reviews
1. Fluval SEA EVO XII Aquarium Kit
There are a number of factors that need to be taken into account if you want to end up getting the most trusted all-in-one saltwater aquariums. As you might already know, these are often times pricey investments, so it is just right that you conduct research first before you take the plunge.
This saltwater fish tank kit is designed with exquisite honeycomb design that hides the rear filtration section. During water replacements, the fish tank is commonly filled to a greater level. This minimizes surface agitation from the output nozzle of the filtration system that has not yet been modified to supply the oxygen levels and surface movement your pet fish have become used to.
In the same way, it is user-friendly, made with all-aluminum water-resistant and smooth casing. Meanwhile, it can provide sterling illumination at night time and is built with a convenient touch start. Interestingly, this comes with a multifunctional canopy that comes with an accessible feed door.
Nonetheless, there are a couple of minor gripes that need to be looked into if you get this all in one tank and these are its lack of adequate space at the rear section of the tank and its light bar tends to work unsatisfactorily.
Built with powerful 3-phase filtration with large biological, mechanical and chemical media
Provides superb night illumination and user-friendly touch start
Designed with ultra-modern look and function
Comes with smooth and all-aluminum water-resistant casing
Made with multifunctional canopy that comes with easy to access feed door
No sufficient space at the rear section
Light bar tends to malfunction
To conclude, this saltwater aquarium kit is an ideal setup for any starter saltwater hobbyist. The box already includes everything you'll ever require to begin setting up your new tank. You will love its powerful LED that is capable of sustaining your fish tank occupants and the pump works silently and efficiently. When it comes to the filtration media, this functions greatly and can help maintain the tank's safety and cleanliness. While this is a little expensive, it is still a good deal that you should not simply ignore.
2. Hygger Horizon Aquarium Kit
This all in one fish tank kit is a good catch for those who are setting up a new fish tank for the first time. It comes with a stunning 3D backdrop, out of an ordinary track design and it is also especially built with a tiny biofilter. The whole background makes the entire fish tank appear like a real underwater world.
This is also built with a filtration system that ensures great flow and includes an extended spray bar. What is more, the backdrop is constructed quite excellently and does not take up significant amount of space in the aquarium. The lighting appears to be made of premium quality and works well in helping plants grow healthily.
It is also equipped with one 7W 110GPH internal power filter pump. This is designed with a unique groove located in the rockery mountain adornment to put the filter in. Meanwhile, its distinguished convex arc curve shape is specifically intended to help broaden the view of the fish tank and this makes it even more capable of holding greater water capacity.
The total volume of the aquarium is eight gallons and it could hold a total of six gallons of water – this is precisely because the 3D background adornment is un-detachable.
However, this all in one tank comes with a filter that creates irking noise every now and then. And, you need to frequently check the filter cut out a spot as tiny fish tends to get stranded there.
Designed with distinctive convex arc curve shape that provides a broader view
Comes with 7W 110GPH internal power filter pump
A piece of cake to set up
Built with unique multi-models LED light
Highly recommended for planted betta setup
Small fish often gets trapped in the filter cut out spot
Comes with pretty loud filter
Laid on the line, this product is
highly recommended all in one tank for beginners
and for those who have limited space. This can look appealing anywhere you decide to put it as it does a superb job of brightening just about any room. The filter can be disassembled instantly as you all need to do to place it in your replacement padding and carbon pellets. It seems to be well-constructed and this is a practical pick for a planted betta setup.
3. Coralife LED Biocube Aquarium
If you have not found the right all in one reef tank for you yet, then perhaps you may look into this product and see for yourself if this is the one that can top-tier match what you are searching for.
This product comes with silent submersible pump, easy to adjust return nozzles and dual intakes. What makes this all in one tank a prominent option to consider is its unique and automatic half hour sunrise/sunset and one hour moonrise/moonset functions that can mimic a natural day cycle. Besides, it is furnished with 24-hour timer that comes with 3 separate channels for sparkling blue, radiant white and color-enhancing LEDs.
Additionally, this tank is phenomenal in that it comes with generous amount of space should you need to add other equipment of your choice. The LED lights are admirable and the timers are user-friendly as well.
Nevertheless, the weak points that can be observed in this all in one aquarium are the slightly distracting sounds that come from the cooling fan and the LED lighting seems to be not made of superior quality as they don't last long. If these are serious matters for you, then maybe you can further your search.
Equipped with smooth and contemporary hood that is designed with radiant LED lighting
Capable of replicating natural day cycle made possible by its sunrise/sunset and moonrise/moonset automatic functions
Plain sailing to assemble and maintain
Built with consolidated 24-hour timer with separated channels
Built-in filtration can be customized and is compact
There is noise coming from the cooling fan
LED lighting appears to be not long-lasting
Ultimately, this is ideal for people who wish to get into fish tank keeping but wish to keep things uncomplicated and not that expensive. It is made with polished contemporary hood with super-radiant LED lighting and this can be used for saltwater and freshwater tanks. This is useful for starters because it is no trouble to put together and maintain. If you prefer something that is compact and constructed with built-in filtration that can be easily customized, then this won't dismay you.
4. MarineLand Portrait Aquarium Kit
If you are going to observe this product carefully, you'll see that the pump as well as the filter caddy is smartly concealed in the back compartment. In line with this, there is sufficient space to squeeze a tiny submersible heater. It is delighting to know that you can depend on a back compartment that can hide all of the accessories and wires from the aquarium's viewing spot.
By the same token, if you are looking for a neat and minimalist design, this all in one aquarium is the real deal. You can have a good looking fish tank without the need to spend more money on it. For the price, this is a wise purchase that won't let you down. Its lighting and filtration features are what make it a high-end pick that worth every single cent you spend for it.
Howbeit, a few of the demerits that are linked to this all in one tank are the filter that tends to generate very vigorous currents which could cause fish stress especially if you are keeping a betta and the black plastic cover on the area of the filter seems frail and does not contain more space for cords.
Built with sliding glass canopy to offer instant access to the aquarium
Designed with gilt-edge three-stage concealed rear panel filtration
Equipped with easy to adjust flow filter pump and hinged light
Comes with blue-colored LEDs that generate soothing moonshine brilliance
Includes white-colored LEDs that form sparkling light in the tank water
Filter tends to produce very strong currents
Filter area's black plastic cover seems frail
Overall, this can be considered one of the top-quality all in one fish tanks to date. The portrait orientation of this fish tank simply conveys that you can possibly place tall plants or adornments in it. Also, it can provide a considerable amount of space for your floating betta log at the surface. Unlike others, it won't take huge amount of space wherever you feel like placing it. The filter motor works just right and the needed filter cartridges are available in most fish supply shops or pet stores. The motor is built with 4 tiny suction cup feet to guarantee stability.
5. Fluval Spec V Aquarium Kit
In general, purchasing a top-tier all in one reef aquarium can be exhausting and costly. Fortunately, this won't be the case if you give this product a try. What makes Fluval brand one of the top choices is its dependable customer service support. Whenever you have queries or concerns that need to be taken care of at once, they respond right away. And, they offer the possible top-tier solution to help their most valued customers.
This is a very wise investment considering it comes complete once purchased. The package already includes LED lighting system, Fluval activated carbon insert, glass fish tank with cover, low-voltage and risk-free transformer, Fluval BioMax inserts, circulation pump that comes with output nozzle plus Fluval foam filter block that comes with a handle. So, if it is your first time to set up an aquarium, this is the top-rated way to start.
A couple of the downsides that you need to unveil regarding this all in one tank are its very vigorous nozzle output flow that could scare away bettas. And, it is not built with a durable cover and easy to access feeding door. These minor issues should be upgraded.
Known for being superior quality 5-gallon Nano tank
Equipped with 37 vigorous and reliable LED lighting system
Comes with activated carbon, foam block as well as BioMax bio rings
Designed with etched glass with aluminum trim
Great value for the price
Nozzle's output flow is quite strong for bettas
Not designed with sturdy cover and easy to lift feeding door
In summary, this all in one aquarium is straightforward to put together and it is practical to utilize if you are keeping Nerite snail, ghost shrimp and betta. The filter pump fits solidly in the chamber and there is adequate space for the cord and pump to fit. Over and above, the pump is designed with a selector lever located on the side to enable the selection of flow rate. If you do not wish your betta to be totally disturbed, then you could adjust the setting. Take note that even if this is modified in the lowest setting, the flow remains powerful and would be alright for just about any sort of fish.
6. Penn Plax Vertex Aquarium Kit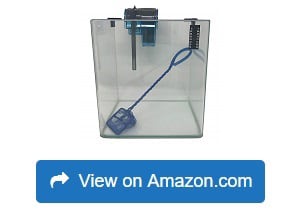 It is good to know that all in one fish tanks are readily available at present. This is a big help for first-timers in fish keeping who need to gradually master the skills in caring for and maintaining the aquarium.
This tank kit comes with hand on water filter, glass tank, fishnet and thermometer once bought. It is harmless to utilize if you have baby shrimp and tiny fish inside the aquarium. The lid comes with hinges that help keep your tank occupants in good hands. It also comes with an opening meant for effortless cleaning and feeding purposes.
This small fish tank is the most suitable choice if you plan to place it in a limited space, small dresser or desk at home or in the office. It is ideal for low light plants as it does not come with any hazards and does a reliable job of encouraging them to grow healthily.
All the same, two minus points for this product consist of the lid that appears to be made with frail plastic material and the fact that this all in one tank product does not come with all the things necessary for a complete throttle fish tank. This means that there is added cost to buy the other equipment needed to set up the aquarium.
Built with distinctive bent glass and frameless design to allow stunning aquarium view
Comes complete once purchased
Ideal pick if you have limited space at home or in the workplace
Harmless to use for tiny shrimp or small fish
User-friendly for novice aquarium hobbyists
Does not come with everything required for complete throttle tank
The lid seems to be made with flimsy plastic material
All in all, this is a first-rate setup for the price. But, you need to ensure that you purchase a heater and a lamp if you intend to keep a betta in the aquarium. Without doubt, this is an ideal pick for any amateur aquarist. The rounded corners are admirable because they are made to be sleek. And, the lid is nicely built as it is a child's play to put on and take off. As for the filter, it works excellently and comes with an easy to modify flow knob.
7. Hagen HG Fluval Flex Aquarium
Do you go for an all in one aquarium kit that can ensure topnotch filtration, lighting and awe-inspiring design? Then, you can end your search here. This product can satisfy all those requirements and it will work like a charm for you too. Aren't these enough reasons to choose it over other options sold on the market today?
It is engrossing to note that you could pick from this aquarium's limitless selection of color blends and the magnificent effects options, all regulated by your Flexpad remote control. This is a well-developed glass aquarium and is equipped with an infrared remote sensor that is aptly consolidated and is easy to access on the canopy.
To boot, if you hope to obtain premium quality water, a top-drawer three-phase filtration is built and it consists of large-sized chemical, mechanical and biological media. And, in order to enable the customized flow of water, this tank is furnished with multi-directional 132 GPH dual outputs; all of these are concealed in the back compartment of the tank.
For all that, you need to be aware of the reality that this all in one aquarium does not have any other available upgrade options in terms of its lighting. And, you need to keep an eye on the filter as this tends to have larger intakes which could gobble tiny pet fish dwelling inside the fish tank.
Provides convenient fish tank features and modern design
Comes with unique and practical feed top cover opening
Features vigorous three-phase filtration
Can help retain the clean and stunning look of your aquarium
Equipped with a total of 48 white and 6 RGB completely modifiable 2450 lux LEDs
No available upgrade options to execute for the lighting
Filter intakes are quite huge so it could swallow tiny fish
Generally speaking, this all in one tank is unrivaled in terms of price, sleek design, amazing features and impressive lighting that encourages outstanding plant growth. It makes fish feeding much more convenient and can help make the entire tank look clean and something wonderful to behold. This is certainly a wise investment that you won't ever regret.
8. MarineLand Contour Glass Aquarium Kit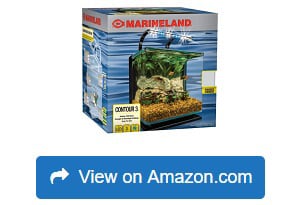 The light strip on this all in one tank comes with both blue-colored lights and clear lights. When the transparent lights are on, the blue lights are also on. This functions adeptly in improving the color of the aquarium. It is interesting to note that you could possibly run the blue lights separately of the transparent lights for an evening time effect. While this may not be crucial if you are keeping a freshwater aquarium, this would be quite vital for a saltwater tank.
Likewise, this comes with ample space to spare if you prefer or need to add more filtration system. This is a visually-appealing aquarium that comes with a small footprint. And, best of all, if you wish to execute some modifications to make it even better, then you are free to do so. It is easy to customize to fit according to your taste and needs.
Even so, this all in one freshwater aquarium comes with a filter pump that is not as durable as expected and is not qualified enough to ensure long-standing service. In addition to this, the rear area is too tight that even people with small hands won't be comfortable adding some necessary equipment or accessories there.
Straightforward to put together and use
Designed with underlying three-phase filtration
Features daytime and moonshine LED settings
Works well in enhancing the color of the fish tank
Built with trendy fish tank kit that comes with rail light
Rear area is quite tight
Filter pump seems not meant for long-lasting service
By and large, this is the best bang for the money. It comes with stellar daytime and moonshine LED settings, convenient and uncomplicated to assemble and use and is a modish fish tank kit that features rail light too. It also has a concealed 3-stage filtration system that comes with easy to modify flow filter pump and makes use of a single RITE-SIZE Z filter cartridge. This is ideal if you wish to start keeping a small-sized aquarium containing three gallons of water. It is priced right yet it comes with a number of awesome features.
What to Look for When Buying All in One Aquarium
With plenty of options to pick from, how can you tell which all-in-one aquarium is the most suitable for you?
Here are some of the buying tips for you to contemplate on:
Always go for bigger fish tanks. The reason for this is that bigger aquariums are easier to care for and maintain than smaller ones. Aside from this, having a bigger tank is advantageous if you need to do some upgrades and additions inside the tank in the future since you still have enough space to use.
How much are you willing to spend? Keeping an aquarium no matter how small or big it is can be costly. Take in mind that the bigger it is, the pricier it is to maintain. And, the bigger the equipment is, the more expensive it is.
How big is the opening of the aquarium? Your pet fish will suffocate if you put more fish inside the aquarium. It is essential to understand that how oxygen enters the aquarium through the water's surface.
Thus, the bigger the water's surface is, the more oxygen can enter the fish tank. So, there would be more available oxygen and your pet fish could comfortably dwell and won't suffer from suffocation.
The truth is, it is usually not the aquarium's size that restricts the number of fish you could keep but the surface area of the water.
Where are you going to put the fish tank?
The place where you plan to put your aquarium has a great impact on deciding which all in one fish tank suits you well. It is critical to do research about this because there must be an appropriate place where to put your aquarium. The fish tank would be difficult to move once it is assembled and filled with water.
For instance, a huge aquarium may especially require a stand to provide additional support to its bulky weight, and this would need a huge space in your home or workplace.
The type and size of fish you will keep. Take into consideration that fish grow, so for example, if you plan to keep a goldfish, a larger tank is needed because they could grow bigger than twelve inches.
Also, when deciding what type of fish to keep, conduct research. Learn about the temperament and adult size of the fish. Note that your aquarium necessitates enough space for grouchy and huge fish.
Do you prefer an aquarium made of glass or acrylic? Both materials come with pros and cons. So, you better weigh these carefully before picking one.
Other Important Factors to Consider
What is an all in one aquarium? How does it work?
An all-in-one aquarium is simply what exactly the name implies- it is the kind of aquarium that has almost all the things required to start a new fish tank. In short, it is a ready-made kit that contains the fish tank and other necessary equipment to assemble an aquarium like heater, lighting and filter. Moreover, there are readily available kits that come with some aquarium adornments. And, the more equipment and decorations there are, the pricier the price tag you need to pay.
Several all-in-one aquariums are also nano tanks that contain below thirty gallons. Premium all in one fish tanks include equipment that is particularly designed to integrate the design of the aquarium and to back up the requirements of the tank as per its size.
For it to work accordingly, it is imperative to learn the basics with regards to assembling and maintaining a fish tank. The process won't be that intricate since there are instructions that you can refer to when you purchase one. Putting the equipment, tools and accessories together as you start setting up a new tank is not a painful process because all these are made ready for you. Be sure to go over and adhere to the manufacturer's instructions when assembling your all in one tank.
What are the different types of all in one aquarium?
All in one fish tanks come in distinct sizes such as tiny kits of ten gallons and beyond and they come in various colors and shapes. These also come in different price range; the bigger and the more equipment it includes the more expensive it becomes.
As the name suggests, they come in complete kits where all the equipment and accessories needed to get started in your aquarium keeping are already prepared for you.
They are either made of glass or acrylic materials. You can pick between lighter or heavier options. The number of combinations is quite huge, with lots of options appropriate for beginners and expert aquarists.
Fundamentally, all-in-one aquariums are readily available in specialty fish stores and through online shopping sites. Whatever type of all-in-one fish tank you decide to get, make sure to consider the shopping guide aforesaid.
Why do you need an all in one fish tank? (Benefits)
All-in-one aquariums are definitely the perfect pick for those who are not yet that expert when it comes to setting up a new tank and maintaining a fish tank.
Here are the perks of investing in a top-quality all-in-one aquarium:
This type of fish tank is painless to put together. Hence, if you are a novice, this is practical as the entire kit has been designed to function together. You get all the required pieces to set up a new tank successfully.
It does not require high maintenance. All-in-one fish tanks are generally manufactured with easy maintenance procedures. The filter cartridges are placed to make them easier to access, replace and clean. The hood is built to be lifted so that it won't intervene with the filter or lighting. In short, equipment works together in a smooth approach.
This comes with step by step setup instructions that include fish tank maintenance, fish selection and proper care. The manufacturer provides a certain number and species of fish that would thrive well in the specific form of the fish tank.
It comes with impressive design and appeal. Fish tanks look stunning, but all-in-one aquariums come with a more incorporated design that could fit the embellishment of a room. And, it could be built to conceal the electronic or mechanical components from view.
Frequently Asked Questions
What is the easiest size aquarium to maintain?
Many newbies assume smaller tanks are easier to maintain. However, it's not true, as a small saltwater or freshwater aquarium setup requires much more maintenance. Its congested design becomes dirty more quickly. As a result, it'll require more cleaning than a larger setup.
But the largest tanks aren't a walk in the park to maintain, either. These tanks leave many more opportunities for something to go wrong. Therefore, their maintenance often becomes excessive, and people end up spending significant time doing the upkeep.
Given this info, I've found the easiest size aquarium lies somewhere in the middle. So anyone looking for an easy option to maintain would do well with tanks between 10 and 20 gallons. Fluval's Sea Evo XII Saltwater Fish Tank Planted Aquarium Kit would be a solid example.
Which fish can I add to an all-in-one aquarium?
An all-in-one aquarium functions precisely like a traditional tank. So any fish capable of being added to a conventional one would thrive in an AIO aquarium. Given this info, choosing suitable fish will come down to whether it's an aquarium for saltwater fish or freshwater ones.
If you have an AIO saltwater fish tank for beginners, I'd recommend getting clownfish or hawkfish. I've found various newbies to have positive experiences with both species. Some other suitable choices include damselfish, clown goby, and cardinal fish.
As for freshwater species, neon tetra or betta fish would be my first choice. Newbies often have successful and fruitful experiences with them. I'd also recommend guppies, golden dwarf barbs, or goldfish.
Which type of AIO aquarium is most suitable for home?
Most AIO aquariums fall into two types, glass or acrylic. Generally, I'd recommend sticking with the former option, especially for home or office usage. These tanks are much easier to clean and offer better viewing than acrylic ones.
An excellent example would be Fluval's Spec V Aquarium Kit. This Nano reef tank will easily blend into a home or office environment. Plus, it has a cheap price tag compared to most other options, especially Red Sea aquarium tanks.
But honestly, glass aquariums don't work in every home situation. The issue comes from them being less durable than acrylic options. So if you have a crowded home, an acrylic complete saltwater aquarium system or aquascaping tank may be a better alternative.
SeaClear's 20-gal Acrylic Aquarium is an ideal choice in these situations. It has an outstanding reputation for being durable even in precarious circumstances. However, I'd also avoid buying a rimless tank as it's much less secure.
Are more expensive AIO aquariums better?
Expensive AIO aquariums aren't necessarily better. But they offer more helpful features and components like an aquascape kit or other tools. So it'll come down to whether you find these add-ons necessary for what you want in a tank.
More importantly, it's essential not to get sucked into price being the primary deciding factor. It'll be a crucial aspect, but a higher price doesn't mean it's more reliable or effective. It's why researching several considerations is vital, as mentioned in our buying guide.
What are the most trusted all in one aquarium brands?
As always, there is no reason to go wrong if you choose the right and credible brand. The same goes when shopping for all in one fish tanks. If you do not want to have any regrets in the long run, make sure that you conduct thorough research first regarding the most trusted and reliable all in one aquarium brands before spending extravagantly.
If you are really serious about getting the real worth of your hard-earned money, then the following highly acclaimed brands can work like a charm for you:
MarineLand
Hygger
Penn Plax
Coralife
Fluval
How to set up?
All-in-one fish tanks come in complete kits that provide all the fundamental equipment, tools and accessories necessary to get a fish tank up and operating. What is more, the filters, lighting and hoods are built specifically to accommodate the kit's provided tank. It is worth noting that the aquarium and the stand are especially crafted to allow more convenience and ease of use.
As a result, since this is an all-in-one set, there is no need to buy the basic tools and all you need to do is to add your chosen fish, water and some adornments of your choice and from there you can start your aquarium keeping without much struggle.
All-in-one tank kits generally come with detailed assembly instructions from the manufacturer. So, you better check this out before you put your aquarium together.
How to care & clean?
As a fish keeper, it is your responsibility to provide a safe haven for your pet fish. And, buying the right aquarium is not the end. The endless process of taking proper care, regularly cleaning and maintaining your fish tank should be one of your lifetime commitments. The good news is that caring for, cleaning and maintaining your all in one fish tank is as simple as putting it together.
Here are the steps to adhere to on how to take proper care and maintenance for your aquarium:
Keep track of the pH levels and noticeable slime on a regular basis and replace the filter cartridge at least every 2 to 4 weeks.
Every two by up to four weeks, it is a must to execute a 25% water change.
In order to keep your fish tank looking neat, consider using algae scrubbers and other safe cleaning tools.
When changing the water, be sure to turn off the filters, pumps and heaters. Then, temporarily remove all the plants and adornments from the aquarium. Thoroughly rinse off everything in clean and warm water and then set them aside.
Take in mind that it is not highly recommended to remove your pet fish all too often when cleaning the tank since this would cause fish stress and can make your fish ill. But, if it is really necessary, use a fish net and put your fish in a large bucket or glass with some of the original tank water.
Utilize a homemade siphon and gravel cleaner and carefully clean the gravel till you completely get rid of at least 1/3 of the water from the tank. It is indispensable to replace the old water with fresh, clean and pre-medicated water that comes with the same temperature as the old tank water.
On the whole, it is practical to consider keeping all your fish tank supplies together. Storing away your buckets, scrubbers, towels, sponges and fish nets would aid ward off the introduction of any potentially dangerous contaminants into your fish tank.
What is the warranty?
If you want to dig more regarding the kind of warranty you can avail of if you choose any of the all in one aquarium products exhaustively reviewed above, you may do so by reading the product description. However, more information can be obtained if you get in touch with the manufacturer's customer service support.
The all in one aquarium reviewed in this article are supported by different forms of warranties such as limited or lifetime warranties, money refunds in case the item received is defective or product component replacements. Please be guided that you need to read the warranty offers carefully to avoid misunderstanding.
In case your chosen product does not come with a warranty, then you better search for other available options.
Where to buy?
If you are looking to buy top-quality all in one aquariums, you can start your search from local fish or pet stores in your current area. Fortunately, these are readily available and are not that difficult to find. Provided that the fish or pet store in your area is well-stocked, you can pick the most appropriate all in one fish tank that would best suit your requirements and taste. Otherwise, you can only choose from limited options.
Be that as it may, if you want to pick from limitless options, then the most suitable way is to shop online such as on Amazon. Here, you can delight in many choices to check out and many highly acclaimed brands or manufacturers are found here. Be sure to shop only from reputable online shopping sites.
Conclusion
Conclusively, as what you have uncovered in this post, there are lots of different all in one tanks as well as aquarium kits that are readily available on the market these days; however, not all of them are worthwhile investments. Thus, when shopping for the best all in one aquarium, see to it that it comes with superior-quality equipment. For a fact, all in one tank products are the top-tier pick because they help make setting up a new fish tank less burdensome.
In essence, purchasing a kit is an excellent means to greatly reduce errors, optimize your rate of success and of course to set aside more pennies. Aquariums definitely make an outstanding and impressive addition to any room at home or in the workplace. Best of all, these are not just meant for aesthetic purposes but are also good investments due to their many health benefits.
So, if you are planning to buy an all in one fish tank, be sure to mull over the product reviews and shopping guides shared above. Needless to say, it is always advantageous to be well-informed before you decide to spend lavishly. Check out the features, pros and cons of each product so that you can come up with the most practical decision.